Exploring Lisbon: The Best Travel Tips for Visiting the City 
Lisbon is a vibrant city on the coast of Portugal, and it's no wonder why so many people are drawn to its colorful streets, delicious food, and beautiful landscapes. Lisbon and its history have been written about and sung by poets and singers alike, its monuments have been described in many different ways so that it gives you the feeling that time has never passed.
Not only because its architecture has been kept intact even though it was hit by an earthquake in 1755, but also because the people themselves are patient and not in a hurry. Lisbon simply has a lot to offer!
The Best Lisbons Travel Tips for Your Next Visit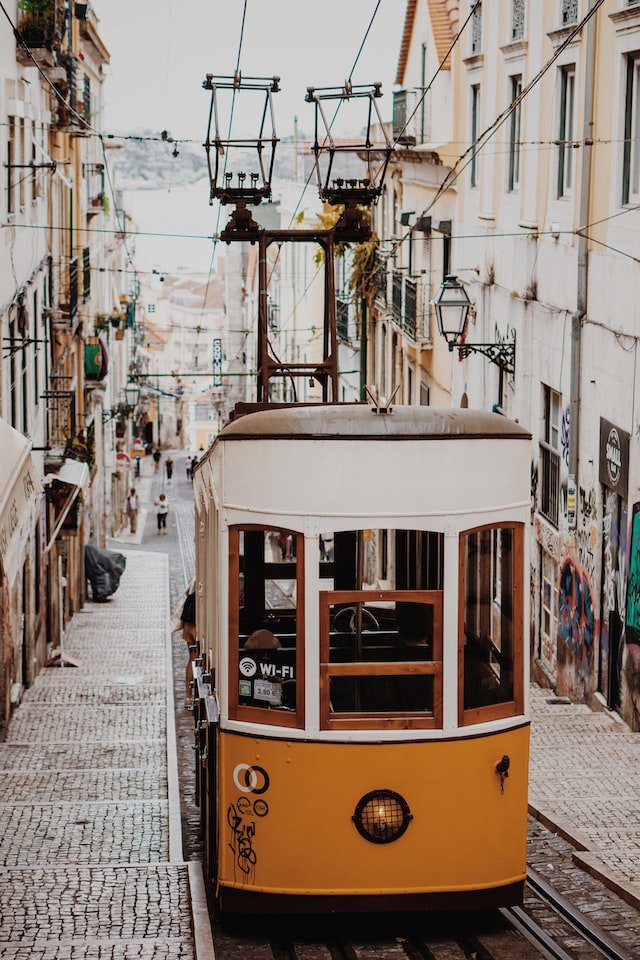 Before you put Lisbon on your bucket list, here is some practical information and Lisbon tips for making the most of your stay in this beautiful city.
Passport & visa requirements
Portugal, as part of the Schengen area, requires a valid passport and/or visa for entry. Make sure you check the requirements before you book your trip to Lisbon. You can easily check for this information on your local embassy's website.
Travel Insurance
Although Lisbon is generally a safe city, there is always the risk of something going wrong during your travels. It is recommended that you get travel insurance before traveling, so that you are covered in case of any accidents or thefts while in Lisbon.
Depending on your insurance, it can cover everything from delayed flights and medical emergencies to lost luggage. So, make sure you choose travel insurance that best suits your needs. When it comes to traveling abroad, it's always better sure than sorry!
Language
Portuguese is the official language spoken in Lisbon and the rest of Portugal. While English is not widely spoken, you'll find that locals are usually friendly and helpful if you need help with directions or communication. The younger generations or people working in the tourism industry will have no issue communicating in English, of course. However, if you want to learn some Portuguese, it's a great way to connect with the locals and immerse yourself in Lisbon's culture.
Transportation
Taxis are widely available throughout Lisbon, but they are quite expensive compared to other forms of transportation. Lisbon has an extensive public transport system, including buses, trains, trams, and electric scooters. Lisbon also has an affordable bike-sharing system called Lisbon Bike Rentals® that allows you to rent bicycles starting from 25 EUR per day.
Accommodation
Lisbon offers a wide variety of accommodation options, from budget hostels to luxury hotels, so no matter what your budget is, there should be something to suit your needs. Lisbon is also home to some of the best Airbnb's in Europe, so if you want a unique and local experience, this could be an option for you.
Safety in Lisbon
Lisbon is generally a very safe city, but like any other tourist destination, you should be aware of your surroundings and take precautions against pickpocketers. Avoid carrying too much cash around with you, and always keep your bags close by when in busy areas or while taking public transportation.
As long as you stick to those red flags and take the necessary precautions, you'll be sure to have a safe and enjoyable time in Lisbon.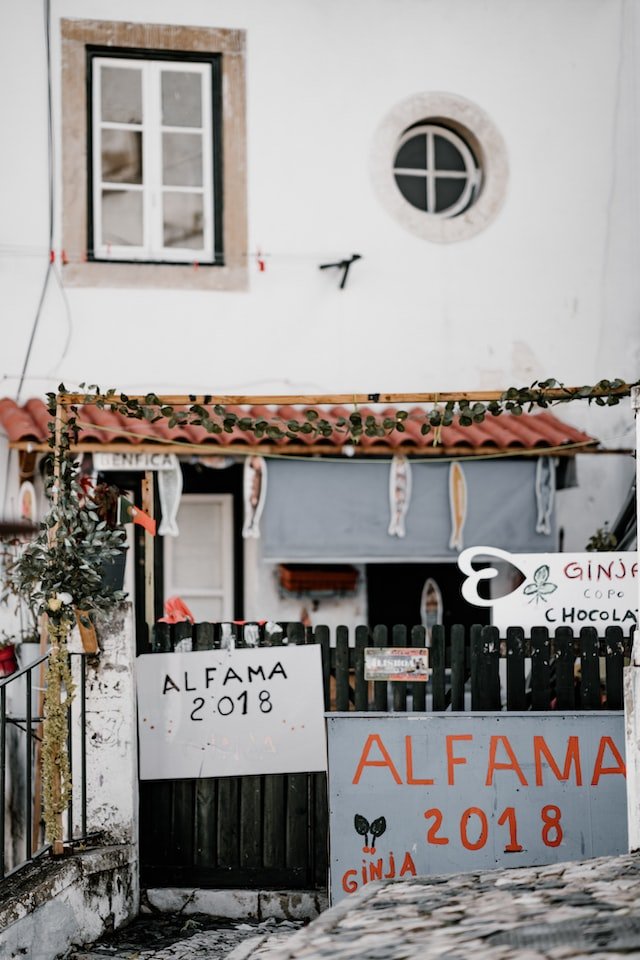 Discover Lisbon's Neighborhoods
Lisbon is divided into different neighborhoods, each with its own unique style and charm. Be sure to explore all of Lisbon's most popular districts—from downtown Baixa to chic Chiado, hip Bairro Alto, and culturally rich Alfama—in order to get a real taste of Lisbon's vibrant culture.
Alfama
If you want to take a glimpse into the past and explore an area full of history and culture, then heading over to Alfama is an absolute must. This winding, narrow neighborhood is one of Lisbon's oldest surviving areas and has kept its traditional charm.
As you wander around the labyrinthine streets, you'll come across colorful buildings, quaint cafes and lots of shops selling all kinds of souvenirs. Don't forget to make time for a sardine dinner at one of the local restaurants—it's said that the best sardines in Lisbon are served here!
Baixa
No trip to Portugal would be complete without spending some time in Baixa, also known as downtown Lisbon. This charming district offers stunning cobblestone streets lined with elegant buildings that have been beautifully restored and painted in bright colors like yellow and ochre.
As you walk through Baixa's main square—Praça do Comércio—you'll find plenty of restaurants and cafes where you can enjoy a drink or bite to eat while admiring the stunning architecture around you. You should also stop by Rossio Square—home to some impressive public fountains—before heading off on your next adventure.
Chiado
Chiado is Lisbon's trendiest neighborhood, and it's the perfect place to go if you're looking for a more upscale experience. This area is full of high-end boutiques, stylish cafes, and chic restaurants that are perfect for a night out with friends.
Don't forget to take some time to explore Chiado Literary Quarter—a must-see for any book lover. Here, you'll find plenty of second-hand bookstores, along with some of Lisbon's oldest cafes and bars.
Or, if you'd prefer to get a better view of Lisbon, why not take the elevator or climb the stairs up to Miradouro de Santa Catarina? From here, you can enjoy stunning views of Lisbon's skyline and the Tagus River.
Bairro Alto
Another great Lisbon neighborhood to explore is Bairro Alto, which is Lisbon's liveliest area. This district offers a fantastic nightlife scene, with plenty of bars and clubs to choose from.
If you'd prefer something a bit more laid-back and local in style, then head over to the Bica quarter and explore its charming streets. Here, you'll find plenty of traditional Portuguese restaurants, shops and cafes that offer a genuine Lisbon experience.
When in Bairro Alto, don't miss out on Lisbon's oldest tram, the Tram 28. This iconic beast takes you around Lisbon's main sights and attractions, giving you a unique way to explore Lisbon while soaking up its beautiful views.
Balém
Belém is located just outside of Lisbon's city center and is known for its historic monuments, such as the Jerónimos Monastery and the Belém Tower. It is also home to some of the city's best pastel de nata (custard tart) shops, so this is definitely an area not to be missed.
Before you leave Belém, make sure to take a stroll through Lisbon's beautiful waterfront promenade and admire the views of the Tagus River.
Parque das Nações
This modern neighborhood was built for the 1998 World Expo and is known for its futuristic architecture and waterfront views. It is home to the Oceanário de Lisboa, the largest aquarium in Europe, as well as Lisbon's Lisbon Casino and Lisbon Oceanarium—two great places to explore on a sunny day in Lisbon.
Parque das Nações is also full of parks, gardens, and green spaces where you can take a break from sightseeing and relax.
Mouraria
Mouraria is a multicultural neighborhood that is known for its Moorish history and diverse food scene. It is home to Martim Moniz Square, a popular gathering place for locals and tourists alike. If you're looking for something a bit more off the beaten path, then don't miss Lisbon's most colorful street—Rua Augusta.
Here, you'll find plenty of cafes, bars and restaurants that offer a mix of Portuguese and international cuisine. From traditional dishes like bacalhau (codfish) to pizza and even vegan options, Mouraria is a great place to experience Lisbon's diverse food culture.
Get Lost in Lisbon's History
Lisbon is a city rich in history, with a fascinating blend of Roman, Moorish, and Portuguese influences. Over the years, Lisbon has seen its fair share of wars, earthquakes, and other disasters, meaning that it is full of incredibly fascinating stories.
Although it's never enough to fully explore Lisbon's past, there are a few spots that will give you an insight into Lisbon's history:
Castelo de São Jorge
Castelo de São Jorge is a must-see historical site in Lisbon. It was built in the mid-11th century by the Moors as a fortress to protect the city. It was later conquered by the Christians in the 12th century and became the royal palace until the 16th century.
The castle's strategic location on a hill in the Alfama neighborhood offers stunning panoramic views of the city and the Tagus River. Visitors can explore the castle's various towers, walls, and courtyards, as well as the underground archaeological site that showcases the castle's Moorish origins.
In addition to its historical significance, Castelo de São Jorge is also a cultural hub with art exhibitions, concerts, and cultural events throughout the year. The castle's gardens offer a peaceful retreat from the hustle and bustle of the city, with fountains, peacocks, and stunning views of Lisbon's skyline.
Mosteiro dos Jerónimos
Mosteiro dos Jerónimos is a magnificent monastery located in the Belém neighborhood. It was commissioned by King Manuel I in the early 16th century to celebrate Portugal's maritime achievements during the Age of Discovery. The monastery was built in the Manueline style, which is characterized by intricate stonework and maritime motifs.
The monastery's architecture is a testament to the wealth and power of Portugal during the 16th century. The façade is decorated with ornate carvings of sea monsters, ropes, and other maritime symbols, and the cloisters are adorned with intricate columns and arches.
Inside the monastery, you can explore the impressive church, which features elaborate stained glass windows and an altar that is carved with more maritime motifs. There is also a museum in the monastery where visitors can learn about Lisbon's history, as well as its Age of Discovery.
Torre de Belém
This tower, also located in Belém, was built in the 16th century as a fortress to defend Lisbon's harbor. It is a UNESCO World Heritage site and one of Lisbon's most iconic landmarks.
The tower was designed in the Manueline style, which is characterized by intricate stonework and maritime motifs. The tower's façade features sculptures of ropes, shells, and other sea-inspired designs. The tower's interior consists of several levels, including a gunpowder room, a chapel, and a terrace with views of the Tagus River.
In 1983, the Tower of Belém was declared a UNESCO World Heritage site, along with the nearby Mosteiro dos Jerónimos. It is one of Lisbon's most iconic landmarks and a must-see attraction for visitors to the city. You can take a guided tour of the tower or explore it on your own. The tower is open every day of the week except for Mondays, and admission fees apply.
Museu Nacional de Arte Antiga
This museum, located in the Rua das Janelas Verdes neighborhood, houses one of the most extensive collections of art in Portugal. It includes works from the Middle Ages to the 19th century, as well as artifacts from Portuguese colonies.
The museum's collection includes paintings, sculptures, textiles, furniture, ceramics, and other decorative arts from the Middle Ages to the 19th century. Highlights of the collection include works by Portuguese masters such as Nuno Gonçalves, Vasco Fernandes, and Josefa de Óbidos, as well as international artists such as Hieronymus Bosch, Albrecht Dürer, and Peter Paul Rubens.
In addition to its art collection, the museum also houses a significant collection of artifacts from Portugal's former colonies, including Brazil, Angola, and Mozambique. These artifacts include African and Asian artworks, textiles, and objects of daily life.
Praça do Comércio
Praça do Comércio, also known as Terreiro do Paço, is a grand square located in the Baixa neighborhood of Lisbon, Portugal. It was once the gateway to Lisbon's port and the starting point for many expeditions during the Age of Discovery. Today, it is one of Lisbon's most important landmarks and a popular destination for visitors to the city.
The square is surrounded by yellow buildings and is home to the statue of King José I, which stands at the center of the square. The statue was erected in the 18th century to honor the king, who played a significant role in rebuilding Lisbon after the devastating 1755 earthquake.
At the northern end of the square is the Arco da Rua Augusta, a triumphal arch that commemorates the rebuilding of Lisbon after the earthquake. The arch features statues of important historical figures and is decorated with maritime motifs, a nod to Portugal's history as a seafaring nation.
Nowadays, Praça do Comércio is a lively hub with restaurants, cafes, and shops. You can enjoy a meal or a drink while taking in the square's impressive architecture and historical significance. The square is also home to several events throughout the year, including concerts, festivals, and cultural events.
Museu do Fado
The museum explores the history and cultural significance of fado, which originated in Lisbon's working-class neighborhoods in the early 19th century. The exhibits feature artifacts, photographs, and multimedia displays that showcase the development of the genre and its impact on Portuguese culture.
In addition to its exhibits, the museum also hosts live performances by some of Portugal's most famous fado singers. It is an excellent destination for anyone interested in music, culture, and history, and a must-visit for those who want to experience the soul of Lisbon's fado scene.
Carmo Convent
The Carmo Convent, also known as Convento da Ordem do Carmo, is a ruined convent located in the Chiado neighborhood of Lisbon, Portugal. It was originally built in the 14th century and was home to the Carmelite order until the devastating earthquake of 1755.
The earthquake, which measured 8.5 on the Richter scale, destroyed much of Lisbon, including the Carmo Convent. Today, the ruins of the convent remain standing as a haunting reminder of the city's past. The Gothic arches and columns of the nave are particularly striking, and visitors can see the remains of the convent's chapels, cloisters, and tombs.
Despite its ruined state, the Carmo Convent has been restored and now serves as a museum. The museum features exhibits on Portuguese history and culture, including artifacts from the convent's collection. The roofless nave of the convent also serves as an open-air auditorium and is used for concerts and cultural events throughout the year.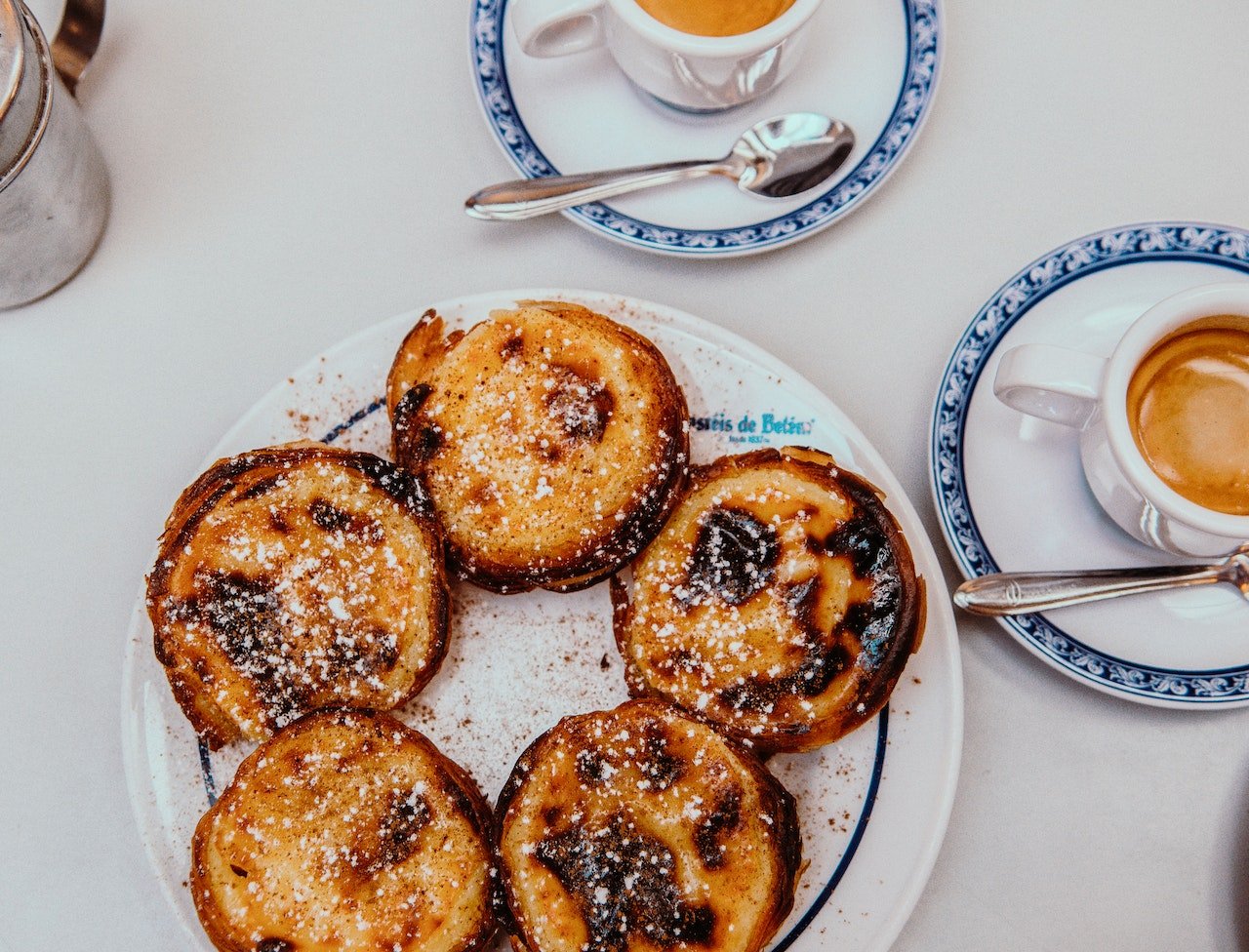 Experience Local Cuisine
One of the best ways to experience any new destination is through its food. And when it comes to Portuguese cuisine, Lisbon has some of the best! Are you a foodie planning your next trip to Lisbon, here is a list of must-try Lisbon travel tips that you should check out:
Bacalhau
Bacalhau (salt cod) is an essential ingredient in Portuguese cuisine, and it's estimated that there are over 1000 ways to prepare it (of course, it's a myth).
Some of the most popular bacalhau dishes in Portugal include Bacalhau à Gomes de Sá (a casserole dish with potatoes, onions, and olives), Bacalhau à Brás (a dish made with shredded bacalhau, eggs, and thinly sliced potatoes), and Bacalhau com Natas (a creamy dish made with bacalhau, potatoes, and cream).
Pastel de Nata
Pastel de Nata is one of Lisbon's most famous and beloved desserts, and no trip to the city would be complete without trying one (or a few!). These delicious custard tarts are made with a flaky pastry crust and a creamy filling made with egg yolks, sugar, milk, and vanilla. They're usually served warm and dusted with cinnamon or powdered sugar.
The most famous place to try pastel de nata in Lisbon is the famous Pastéis de Belém bakery in the Belém neighborhood, which has been making these delicious treats since 1837 using a secret recipe passed down from the monks of the nearby Jerónimos Monastery. But you can also find them at many other bakeries and cafés throughout the city.
Sardinhas
Grilled sardines, or sardinhas as they are known in Portuguese, are one of the most iconic and traditional dishes in Lisbon. These small, oily fish are typically grilled over charcoal and served whole, seasoned simply with salt and lemon. They're usually served with boiled potatoes and a salad made with tomatoes, onions, and peppers.
Sardines are especially popular in Lisbon during the summer months, when the city celebrates the Feast of St. Anthony in June and the Feast of St. Peter in late June or early July. During these festivals, the streets of Lisbon are filled with the aroma of grilled sardines, and locals and tourists alike gather to enjoy this delicious and simple dish.
Cozido
Cozido is a traditional Portuguese stew that is especially popular during the colder months of the year. It is made with a variety of meats, such as beef, pork, chicken, and sausage, as well as a mix of vegetables, such as cabbage, carrots, potatoes, and turnips. The stew is often cooked for several hours to allow the flavors to meld together, resulting in a rich and flavorful dish that is perfect for warming up on a chilly day.
In Lisbon, you can find cozido in many traditional restaurants and tascas, or small eateries, throughout the city. Some places even offer cozido à portuguesa, which is a version of the stew that is served with a variety of meats and vegetables, as well as rice, beans, and other accompaniments.
Caldo Verde
Caldo Verde is a traditional Portuguese soup that is very popular in Lisbon and throughout the country. It is made with potatoes, onions, garlic, olive oil, and a type of Portuguese kale called couve galega. The soup is typically garnished with slices of chorizo or other smoked sausage, which add a deliciously smoky and savory flavor to the dish.
Caldo Verde is a simple and comforting soup that is perfect for a chilly day, and it is often served as a main course for lunch or dinner. It is also a popular dish to serve at festivals and celebrations, especially during the popular Portuguese festival of Saint Anthony in Lisbon.
Bifanas
It is made with thin slices of marinated pork, typically cooked with garlic and spices, and served on a crusty bread roll. The sandwich is usually garnished with mustard and hot sauce, and sometimes with slices of tomato and onion as well.
Bifanas are a popular street food in Lisbon and are often served at tasquinhas (small taverns) and other casual dining establishments. They are also commonly served at festivals and fairs throughout the city, especially during the popular Portuguese festival of Saint Anthony.
Vinho Verde
This is a light, refreshing wine from the Minho region of Portugal. It pairs well with seafood and is perfect for a warm summer day.
Vinho Verde is made from a variety of grapes, including Alvarinho, Loureiro, and Trajadura. It is typically a blend of white grapes, but can also be made as a rosé or red wine. The wine is best served chilled and pairs well with seafood, salads, and light dishes.
When visiting Lisbon, be sure to try some Vinho Verde at one of the city's many restaurants or wine bars. It is a perfect wine to accompany a plate of grilled sardines or other seafood dishes, and it's a great way to experience the unique flavors of Portuguese wine.
Have Fun at Nighttime Hotspots
After dark, Lisbon comes alive with its lively bars and clubs offering up great music and atmosphere. Whether it's salsa dancing at The Music Box or enjoying live jazz at Hot Clube de Portugal—there's something for everyone in this buzzing nightlife scene!
For those who prefer something quieter, take a stroll along Avenida da Liberdade where you can find plenty of cafes & pubs serving up craft beers & cocktails. Just don't forget that last train home. Here are some popular nighttime hotspots in Lisbon:
Bairro Alto
Its narrow streets are lined with bars, restaurants, and clubs, making it the perfect place to bar-hop and enjoy some live music.
Pink Street
Pink Street (Rua Nova do Carvalho) is a lively nightlife spot in Lisbon's Cais do Sodré neighborhood. The street is known for its distinctive pink pavement and is home to several bars and nightclubs that are popular with locals and tourists alike. It's a great place to experience Lisbon's vibrant nightlife scene.
Hot Clube de Portugal
This legendary jazz club has been around since 1948, making it the oldest jazz club in Lisbon. Located in the Chiado neighborhood, it's a great place to catch live music and performances from both local and international jazz musicians.
Park Bar
The Park Bar is definitely a must-visit spot in Lisbon! It's a rooftop bar with a relaxed and trendy atmosphere, offering great views of the city skyline. It's located on the top floor of a parking garage in Bairro Alto, and the entrance is a bit hard to find, but the search is definitely worth it.
The bar has a varied drink menu and a small food menu, and it's a great place to hang out with friends or to have a romantic evening with a loved one.
The Editor's Note
I hope you haven't felt overwhelmed by these insightful Lisbon travel tips. Lisbon is a beautiful city full of amazing sights, tastes, and experiences. From its delicious food to its vibrant nightlife scene, you can surely find something in Lisbon to suit your taste. So go ahead, explore Lisbon, and make sure you read our other Lisbon itineraries to get the most out of your trip!