Is Mantua Worth Visiting? The Answer in this Mantua Travel Guide!
Mantua, or Mantova in Italian, is often overlooked by tourists keen to explore Italy's more popular cities. But this quaint Renaissance city of Lombardy is worth visiting for its beautiful art, rich history and fine cuisine—all without the crowds that plague Rome, Florence and Venice.
If you're still on the fence, read this Mantua travel guide to discover what this overlooked Italian hidden gem has to offer.
An Ultimate Mantua Travel Guide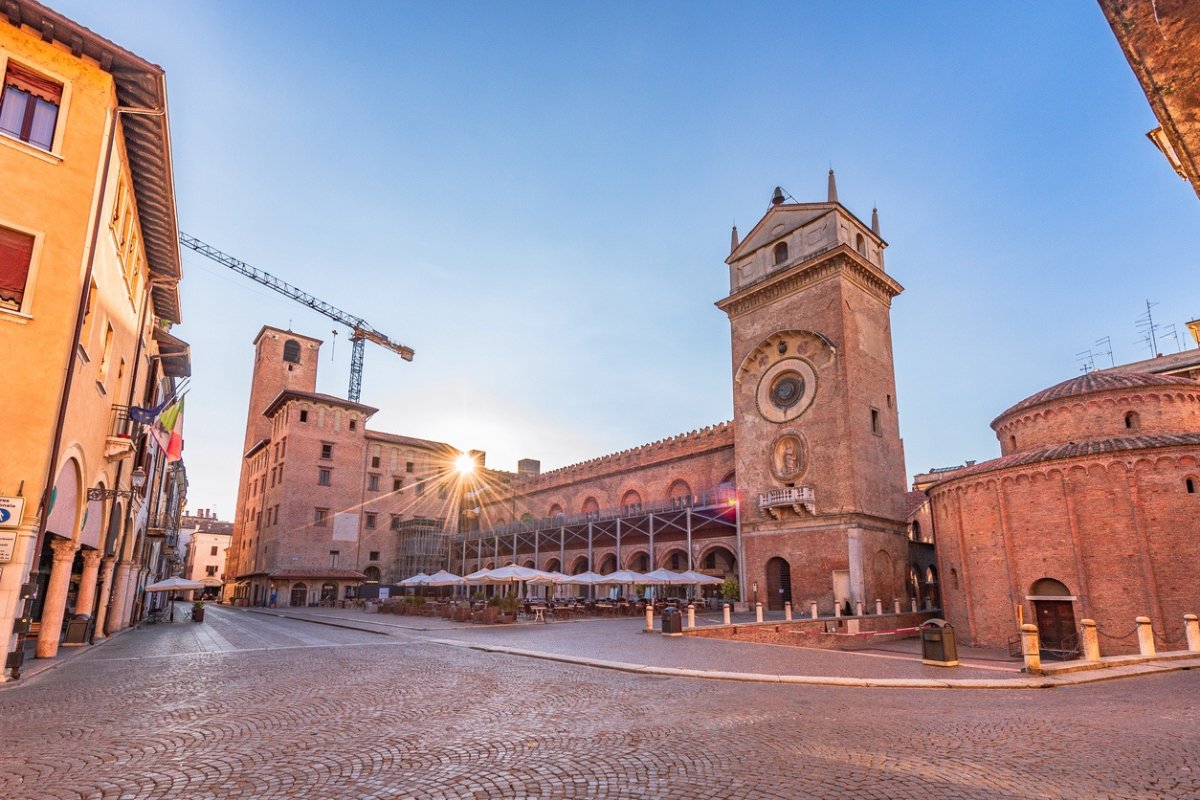 Where is Mantua?
Unlike other popular cities in Italy, many people don't know where Mantua is. It's a city in Lombardy, Northern Italy, about 2 hours from Milan and about the same distance from Verona, Bologna and Venice.
How to Get to Mantua
Chances are that you'll be traveling to Mantua from one of the other nearby cities in Italy. The most popular way to get there is by car, as it will give you the freedom to explore beyond the city limits and visit some of Lombardy's charming villages. You could also opt for a train or bus ride from Milan or Venice.
From Milan to Mantua by Train
If you're traveling from Milan, the best way to get to Mantua is by train. It'll take about 2 hours on a regional train, with two options: direct train or with at least one stop. The tickets are inexpensive—it costs around 12 EUR for a one-way ticket. When you arrive at the station, you'll be only a 15-minute walk from the city center.
From Venice to Mantua
If Mantua is your next stop after Venice, you can take a direct train from Venice Mestre. It takes less than 3 hours, and the ticket is priced at 13 EUR for a one-way trip.
From Verona to Mantua
Direct trains to Mantua take 45 minutes from Verona, and the ticket costs around 8 EUR. Therefore, Mantua can be a perfect day trip from Verona!
A Brief History of Mantua
Mantua is known for its history, art and architecture. The city center of Mantua is a UNESCO World Heritage Site and is full of beautiful Renaissance buildings. It was once the capital of the Gonzaga dynasty, which ruled from 1328 until 1707 and left an impressive legacy in the form of palaces, churches and villas.
The most impressive site in Mantua is the Palazzo Ducale, which consists of many different buildings built over the centuries by different Gonzaga rulers. It's a must-see when you visit Mantua, as well as the Palazzo Te, built in 1525 by Giulio Romano. Back in its glorious days, Mantua was a hub of culture and art, thanks to the likes of Virgil, Petrarch and Ariosto who lived here.
Mantua is also known for its art and culture. The city is home to one of the oldest universities in Italy—the University of Mantua was founded in the 14th century. Nowadays, the University of Mantua (Università di Mantova) is one of the most prestigious universities in Italy and has a long tradition of producing some of the best Italian writers, poets, and scientists.
Where to Stay in Mantua
The historic Palazzo Castiglioni on Mantua's main Piazza Sordello is a special place to stay. It is still owned by descendants of Baldassare Castiglione, author of The Book of the Courtier (1527), a handbook of courtly etiquette that became influential across the courts of Europe.
More conventional hotels on the same and adjacent central squares include Hotel del Broletto and Hotel dei Gonzaga. You can find more affordable accommodation slightly east of the city center near the train station.
Other accommodation options in Mantua include hotels, B&Bs, and even Airbnb rentals. For a more budget-friendly option, you can check out some of the hostels located in the city center or near Piazza Sordello—they're a great way to meet other travelers and still be close to the attractions.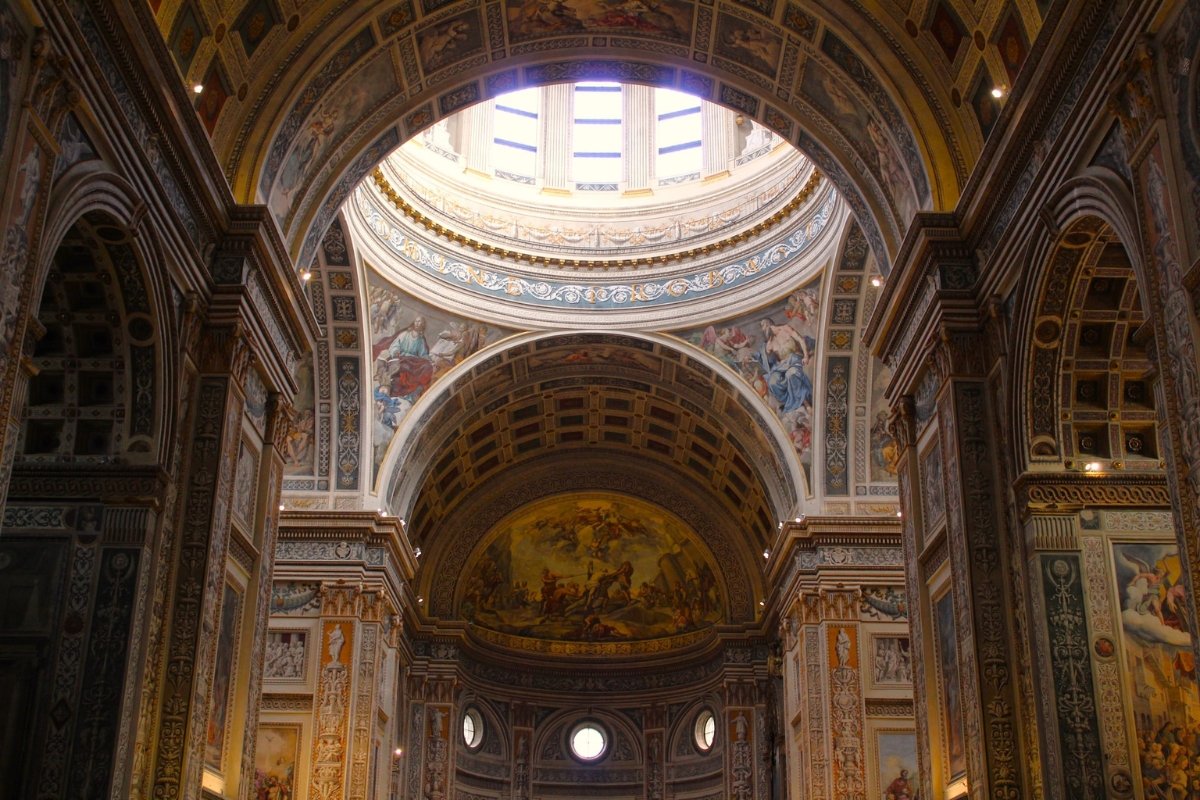 What to See in Mantua
With its rich history and cultural heritage, Mantua offers plenty of attractions to explore. The most popular sites are the Palazzo Ducale, built in the 14th century by Gianfrancesco Gonzaga; Castello di San Giorgio, a fortress that was also built by Gianfrancesco Gonzaga in 1395; Rotonda di San Lorenzo, a 16th-century church with an impressive dome; and Palazzo Te, the palace built by Giulio Romano in 1525.
The city is also home to several museums where you can explore its histories, such as the Museum of Mantua (Museo di Mantova), Museo della Città del Gonzaga (City Museum of Gonzaga), and Art Gallery of Mantua (Galleria di Arte Moderna).
For those who love nature, Lake Garda is only a short drive away. You can take a day trip to this stunning lake or rent a boat for an unforgettable experience.
Palazzo Ducale
This stunning palace was the residence of the Gonzaga family, rulers of Mantua from the 14th to the 17th century. The palace is a masterpiece of Renaissance architecture and art, and is one of the most important historic sites in the city.
The construction of Palazzo Ducale began in the 14th century, but it was expanded and renovated over the centuries by various members of the Gonzaga family. The palace is arranged around four courtyards and features a mix of styles, including Gothic, Renaissance, and Baroque. The palace contains a vast collection of art and artifacts, including frescoes, sculptures, and tapestries.
One of the most famous rooms in Palazzo Ducale is the Camera degli Sposi, or Bridal Chamber. This room was decorated by Andrea Mantegna, one of the greatest artists of the Renaissance, with frescoes depicting the Gonzaga family and their court. The frescoes are known for their realistic depiction of space and light and are considered one of the most important works of art of the Renaissance.
Another highlight of Palazzo Ducale is the Sala degli Antichi, or Hall of the Ancients. This room is decorated with a series of frescoes by Pisanello and others, depicting ancient Greek and Roman heroes and gods. The room also features a stunning coffered ceiling decorated with gold leaf and stucco work.
Palazzo Ducale also has a number of other rooms and galleries showcasing art and artifacts from various periods in the history of Mantua. Visitors can see a collection of tapestries, weapons, and armor, as well as works of art by famous artists such as Rubens and Titian.
Today, Palazzo Ducale is open to the public as a museum, showcasing its rich history and art. Visitors can explore the palace's rooms and galleries, and admire the stunning frescoes and other works of art. Palazzo Ducale is a must-see for anyone visiting Mantua and a testament to the rich cultural heritage of this beautiful city.
Piazza delle Erbe
Piazza delle Erbe is a lively and bustling square in the heart of Mantua, Italy. The square has been a gathering place for locals and visitors for centuries, and is known for its historic buildings and lively atmosphere.
At the center of the square stands the Fontana dei Delfini, or Fountain of the Dolphins. This beautiful fountain was built in the 16th century, and features four dolphins spouting water from their mouths. The fountain is a popular spot for tourists and locals alike, and is especially beautiful when lit up at night.
Surrounding the square are a number of beautiful buildings, including the Palazzo della Ragione, which was built in the 13th century and is now home to the city's museum. Another important building is the Palazzo del Podesta, which was the seat of the city's government during the Middle Ages. Today, it houses a museum of local history.
The square is also home to a number of cafes and restaurants, making it a great place to stop for a coffee or a meal. Visitors can sit at one of the outdoor tables and enjoy the lively atmosphere of the square, watching as locals go about their daily lives.
Throughout the year, Piazza delle Erbe is the site of a number of events and festivals, including a weekly market where locals sell fresh produce and handmade crafts. During the Christmas season, the square is transformed into a winter wonderland, with a Christmas market, ice skating rink, and festive lights.
Mantua Cathedral (Duomo di Mantova)
Mantua Cathedral, also known as the Duomo di Mantova, is a stunning masterpiece of Romanesque and Gothic architecture located in the heart of Mantua, a city in northern Italy. Built on the site of a former church dedicated to St. Peter the Apostle, the cathedral has a long and rich history that is deeply intertwined with the religious and cultural heritage of Mantua.
The cathedral was first built in the Early Christian era, but it was destroyed by a devastating fire in 894. It was subsequently rebuilt in the late 14th century in the Romanesque-Gothic style that is now its hallmark. Over the years, the cathedral has undergone numerous renovations and additions, including the addition of a magnificent Baroque façade in the 18th century.
One of the most striking features of Mantua Cathedral is its impressive bell tower, which soars to a height of 86 meters (282 feet) and is the tallest in the city. The tower was built in the 15th century and boasts a distinctive shape, with a square base that gradually tapers to an octagonal shape at the top.
Inside, the cathedral is a treasure trove of art and architecture, with numerous chapels, altars, and artworks that testify to its rich history and religious significance. One of the most impressive features is the ceiling of the nave, which is adorned with a series of stunning frescoes by the famous Renaissance artist Andrea Mantegna. These frescoes depict scenes from the life of St. James and the life of St. John the Baptist and are widely considered to be among the most important works of Renaissance art in northern Italy.
Other notable features of the cathedral include the Chapel of the Blessed Sacrament, which is decorated with exquisite frescoes by the famed Mannerist artist Giulio Romano, and the Chapel of St. Longinus, which contains a beautifully carved wooden crucifix by the renowned sculptor Benedetto Antelami.
In addition to its rich artistic and architectural heritage, Mantua Cathedral is also an important place of worship for the people of Mantua and a symbol of their enduring faith and cultural identity.
Palazzo Te
Palazzo Te is a stunning Renaissance palace located in Mantua, Italy. It was built by Federico II Gonzaga, Duke of Mantua, as a pleasure palace for his family and court in the early 16th century. The palace is named after the nearby village of Te, where it was built on the site of a former monastery.
The design of Palazzo Te is attributed to Giulio Romano, a renowned architect and painter who was a pupil of the famous artist Raphael. The palace features a mix of classical and innovative elements, with an emphasis on harmonious proportions and symmetry. The building is arranged around a central courtyard with a fountain, surrounded by a series of rooms and galleries decorated with frescoes and stucco work.
One of the most famous rooms in Palazzo Te is the Sala dei Giganti, or Room of the Giants. This spectacular chamber is decorated with a fresco depicting the giants of Greek mythology being defeated by the gods of Olympus. The ceiling of the room is painted to look like a dome, with an illusionistic effect created by the use of trompe-l'oeil techniques. Visitors can also see the Sala dei Cavalli, or Room of the Horses, which features a fresco of a procession of horses and chariots.
Palazzo Te also has a beautiful garden, with a maze, fountains, and sculptures. The garden was designed by the same team that created the palace's interior, and features a mix of classical and Renaissance elements.
Today, Palazzo Te is open to the public as a museum, showcasing its stunning art and architecture. Visitors can admire the frescoes and stucco work in the palace's rooms and galleries, as well as explore the beautiful garden. Palazzo Te is one of the most important Renaissance buildings in Italy, and a must-see for anyone visiting Mantua.
Basilica di Sant'Andrea
The Basilica di Sant'Andrea is considered to be one of the finest examples of Renaissance architecture in the country and is renowned for its beautiful façade, stunning interior, and rich history.
Construction of the church began in 1472, and it was designed by the famous architect Leon Battista Alberti, who drew inspiration from ancient Roman architecture. The church was completed in 1494, but it underwent numerous renovations and additions over the centuries, including the addition of a magnificent dome in the 18th century.
The exterior of the Basilica di Sant'Andrea is a masterpiece of Renaissance architecture, with a magnificent façade featuring intricate carvings, columns, and arches. The façade is dominated by a towering pediment that is adorned with a statue of St. Andrew, the patron saint of the church.
Inside, the basilica is just as impressive, with a soaring nave that is adorned with beautiful frescoes, sculptures, and artwork. One of the most striking features of the interior is the magnificent dome, which is decorated with stunning frescoes by the famous Baroque artist Giovanni Battista Tiepolo. These frescoes depict scenes from the life of St. Andrew and are widely considered to be some of the finest works of Baroque art in Italy.
Other highlights of the Basilica di Sant'Andrea include the Chapel of the Holy Sacrament, which is decorated with beautiful frescoes by the Renaissance artist Giulio Romano, and the Chapel of the Madonna della Vittoria, which contains a beautiful marble altar and a statue of the Virgin Mary by the famous sculptor Andrea Mantegna.
Visitors are welcome to attend mass and participate in other religious services, and the church is also a popular venue for concerts and other cultural events.
Gastronomy in Mantua
No visit to Mantua would be complete without trying some of its delicious local dishes. The city is home to some of the best restaurants and trattorias in northern Italy, with plenty of traditional dishes to choose from.
Mantuan cuisine is heavily influenced by the region's agricultural heritage, with a focus on using local ingredients and traditional recipes. Here are some of the must-try dishes in Mantua:
Tortelli di zucca
Tortelli di zucca is a classic dish from Mantua, and it is a popular choice for locals and visitors alike. The dish consists of handmade pasta pockets that are stuffed with a mixture of roasted pumpkin, Parmigiano-Reggiano cheese, and sometimes amaretti cookies or mostarda (a type of candied fruit in mustard-flavored syrup). The tortelli di zucca are typically served with a simple sauce made from butter and sage leaves, which complements the sweetness of the pumpkin filling.
Tortelli di zucca is a delicious and comforting dish, perfect for a cozy meal on a cold day or as part of a festive holiday feast. It is a must-try when visiting Mantua, and many local restaurants and trattorias offer their own unique take on this classic dish.
Risotto alla pilota
Risotto alla pilota is a traditional dish from Mantua that showcases the region's famous rice. The dish is typically made with locally grown Carnaroli or Vialone Nano rice, which is known for its plump, creamy grains that hold their shape well when cooked.
Risotto alla pilota is a hearty and flavorful dish that is perfect for a comforting dinner on a chilly evening. The creamy rice pairs perfectly with the savory sausage and salty cheese, creating a satisfying and delicious meal. It is a popular dish in Mantua and can be found at many local restaurants and trattorias.
Stracotto d'asino
Stracotto d'asino, or donkey stew, is a traditional winter dish from Mantua that has been enjoyed for centuries. While it may sound unusual, donkey meat is actually quite tender and flavorful when slow-cooked in a rich and hearty stew.
While stracotto d'asino may not be for everyone, it is a beloved and iconic dish in Mantua and an important part of the region's culinary heritage. It is best enjoyed during the winter months, when the hearty stew is a welcome comfort on cold evenings.
Mostarda di frutta
Mostarda di frutta is a unique and flavorful condiment that is popular in Mantua and throughout the Emilia-Romagna and Lombardy regions of Italy. It is a sweet and spicy fruit compote made with candied fruit and mustard oil, giving it a distinctive flavor that is both tangy and fiery.
To make mostarda di frutta, a variety of fruits are candied in sugar syrup and then mixed with mustard oil and spices such as cinnamon, nutmeg, and cloves. The mixture is then simmered until thick and syrupy, creating a sticky, jam-like consistency.
Mostarda di frutta is typically served as a condiment with cheese, particularly soft and creamy varieties such as Gorgonzola or Taleggio. The sweet and spicy flavors of the mostarda provide a delicious contrast to the rich and tangy cheese, creating a perfect balance of flavors.
Sbrisolona
While sbrisolona is a classic Mantuan dessert, it is also popular throughout the Lombardy region and beyond. Its simplicity and versatility make it a beloved dessert that can be enjoyed on its own or paired with a variety of other sweet treats. It is typically served as a sweet accompaniment to coffee or a glass of sweet wine.
To make sbrisolona, a mixture of flour, sugar, butter, and ground almonds is combined to form a coarse, crumbly dough. The dough is then pressed into a tart or cake pan and baked until golden brown and crispy. Once cooled, the sbrisolona is broken into bite-sized pieces and served.
Sbrisolona is a delicious and simple dessert that is perfect for a casual gathering or as a sweet treat to enjoy at home. Its crumbly texture and nutty flavor make it a great complement to a cup of coffee or a glass of sweet wine, and it is sure to be a hit with anyone who enjoys traditional Italian sweets.
Where to Eat in Mantua
When it comes to dining in Mantua, there are plenty of options to choose from. The city has many trattorias and osterias that offer traditional Mantuan cuisine, as well as upscale restaurants that put a modern twist on classic dishes. Some of the best restaurants in Mantua include:
Ristorante Dal Pescatore (Via Runate 15)
Trattoria Due Cavallini (Via Salnitro 5)
Osteria la Fragoletta (Piazza Arche 5a)
Osteria Al Gabbiano (Via Trieste 10)
Osteria dell' Oca (Via Trieste 10; osteriadelloca.it)
Tortelli & Friends (Via Domenico Fernelli 28/A; tortelliandfriends.it)
Osteria delle Quattro Tette (Vicolo Nazione 4)
Is Manta Worth Visiting?
After all, is Mantua worth visiting? — you may ask. Absolutely! With its art, history, and fabulous food, Mantua is an amazing city to explore. Although it may not be as well-known as some of the other cities in Italy, its lack of crowds makes it a great destination for anyone looking for a quieter and more relaxed getaway.
As you wander through the cobblestone streets, you can explore its many art galleries, churches and museums or take in the breathtaking views from one of the city's terraces. The local cuisine is another highlight of Mantua, offering a variety of traditional dishes that are sure to tantalize your taste buds.
Whether you are looking for a romantic escape or an opportunity to soak in the culture and beauty of Italy without the crowds, Mantua is sure to deliver. With its stunning scenery, rich history, and delicious culinary offerings, this hidden gem of Italy will sooner or later be on the radar of every traveler. So why not visit Mantua now and experience it for yourself? You won't regret it!