Tips for Traveling to Italy for the First Time
If you've ever dreamed of exploring the cobblestone streets, sipping cappuccinos on piazzas, and eating your way through Italy, you should definitely go! With its storied history and gorgeous architecture, there is no better place to take your first international trip. To help you plan your perfect Italian adventure, here are some tips for traveling in Italy for the first time.
What You Should Know Before Traveling to Italy
Before you hop on a plane and head overseas, here are all the tips to help make sure your first time traveling to Italy is as smooth as possible.
Passport & visa requirements
First and foremost, Italy is a Europe country, so you will need a valid passport and visa (if necessary) to enter the country. Make sure you know how long your passport is valid, and if it's about to expire, consider getting a new one before heading out of the country.
Currency
The second thing you should keep in mind is that the official currency of Italy is the Euro (€).
It's best to exchange some of your home currency for Euros before you arrive. But if you cannot make it, before arriving at the airport exchange window, use an online currency converter to double check the current exchange rate. This way, you know exactly how much cash to withdraw ahead of time.
You'll need cash on hand to make purchases while in Italy, and it will also be much easier to pay with the local currency when making transactions—especially since many eateries in smaller towns may not accept credit cards or debit cards from foreign banks.
If you have to pay with a credit card, make sure to check the exchange rate before you go and only pay in euros. Never accept to pay in a different currency. Also, only use credit cards in reputable stores and restaurants.
Travel Insurance
You should also consider getting travel insurance if you're heading to Italy for the first time. Travel insurance can help cover medical expenses, lost or delayed luggage, and other costs in case something goes wrong on your trip.
You never know what could happen while traveling abroad, so it's always best to protect yourself against potential mishaps by getting travel insurance ahead of time — especially if using non-refundable tickets or prepaid hotel rooms/rentals. It is always better to be sure than sorry!
Language
The official language in Italy is Italian, but English is widely spoken as well. Depending on where you're traveling, you may find that people are more accustomed to speaking English. However, it never hurts to learn a few useful phrases before your trip, like ciao (hello/goodbye) and grazie (thank you).
Weather in Italy
In general, the weather in Italy is fairly mild throughout most of the year, with temperatures rarely dipping below freezing. However, months like April and May tend to be quite rainy, so if you're traveling in the early springtime, make sure you bring appropriate gear.
During summer, temperatures can become quite hot, especially in the south of the country. If you're planning on spending a lot of time outdoors during your visit, it's best to pack lightweight clothing and plenty of sunscreens.
Fall (from September to November) is another great time to visit Italy. The temperature is comfortable, the days are still long, and the autumn foliage is beautiful to behold. Fall in Rome, Tuscany, and the Northern regions is especially breathtaking.
During winter time, temperatures do drop and the days are shorter, but winter is still a great time to visit if you don't mind bundling up. You can expect snow in the mountains, and during Christmas time, many of Italy's cities become even more magical with festive decorations and activities.
Clothing
Depending on where you're visiting in Italy, the dress code may vary. Generally speaking, Italians love to dress up and it's not uncommon to see people wearing designer clothing even for casual outings. All in all, be sure to pack lightweight clothing that can easily be layered in case the temperature fluctuates during your visit.
When visiting churches, make sure to dress conservatively with your shoulders and knees covered. You may also need to take off any hats when entering religious buildings.
For shoes, opt for something comfortable with good arch support because, trust me — when you're sightseeing all day long, your feet will thank you! Additionally, make sure to research the local customs so that you don't inadvertently offend anyone with your clothing choices.
Safety in Italy
In general, Italy is a very safe country, with low crime rates and friendly locals. However, it's still important to stay vigilant when traveling abroad. Be aware of your surroundings at all times and avoid carrying too much cash or valuables with you when out exploring the city.
Using common sense and taking the same safety precautions you would at home should help ensure that your trip to Italy is a safe and enjoyable one.
Accommodation
Booking accommodation in advance is highly recommended. Italy is a popular tourist destination, so it's best to make sure your accommodations are secured before arriving. Plus, booking ahead of time will give you more options when it comes to budget and location.
Transportation
Public transportation is widely available in Italy as well as mostly the rest of Europe.
The best way to get around depends on where you're going and how long you plan on staying. In large cities like Rome, it's best to opt for public buses or metro systems as they are both affordable and efficient.
For longer distances, trains are a great option as they provide comfortable travel. Depending on your itinerary, it might be worth investing in a 7-day or 15-day regional train pass if you plan on taking multiple trips around the country. This will save you money in the long run.
Food & Dining in Italy
One of the best things about traveling in Italy is the food! Whether you're enjoying a plate of pasta or indulging in a delicious gelato, Italian cuisine is world-renowned for its quality and taste.
When dining out in Italy, be sure to leave a tip of at least 5-10% if you're satisfied with your meal. Tipping is not expected, but it is customary and will help show your appreciation for the hard work of the waitstaff.
For a truly magical culinary experience, consider joining a food tour in one of Italy's major cities. Food tours offer an excellent way to explore local eateries and learn more about the country's unique culture and cuisine.
Places to Visit in Italy for First-Timers
Italy is a large country with plenty of cities and towns worth exploring. Depending on your main goal, you can take a day trip from Rome, hike the Italian Alps, or lounge on one of Italy's many beautiful beaches.
No matter where you decide to go in Italy, there will be something unique and wonderful to explore. Some of the most popular tourist destinations include:
Rome & The Vatican
The capital city is home to numerous historical sites, including the Colosseum, St. Peter's Basilica, the Sistine Chapel, and much more. You just simply cannot ignore Rome when you travel to Italy, regardless of how many times you have been to the city.
Main tourist attractions: Colosseum, Roman Forum, and Pantheon
Florence
This charming city is a great place to visit for those looking for both culture and relaxation. You can explore the numerous galleries, museums, piazzas, cathedrals, shops and restaurants that make up this unique city.
This Renaissance city is also known for its stunning architecture and breathtaking views. It's also home to some of the world's most iconic artwork, including Michelangelo's "David."
Main tourist attractions: Uffizi Gallery, Ponte Vecchio, and the Duomo
Cinque Terre
This picturesque stretch of coastline is made up of five beautiful fishing villages connected by a network of hiking trails. Here you'll find stunning views and crystal-clear waters, perfect for swimming or snorkeling.
Main tourist attractions: Monterosso al Mare, Vernazza, and Manarola
Naples & The Amalfi Coast
Famous for its vibrant culture, stunning views, and delicious cuisine, this area is a must-see when visiting Italy. Take a boat tour around the coast or explore some of the towns around the area—you won't regret it!
Main tourist attractions: Pompeii, Capri, and Positano
Venice
Simply a must-see destination, Venice is known for its winding canals and elaborate architecture. Stroll around the charming streets or take a romantic gondola ride through the city's waterways—the choice is yours!
Main tourist attractions: St. Mark's Basilica, Doge's Palace, and the Rialto Bridge
Milan
The capital of fashion, Milan is a great place to explore high-end designer stores and fashionable boutiques. Beyond fashion, the city also offers plenty of world-class galleries, museums, and restaurants.
Main tourist attractions: The Duomo, La Scala opera house, and the Sforza Castle.
No matter what kind of traveler you are, there's something for everyone in Italy. Italy and its vast destinations are simply a must-visit country for all types of travelers, whether you're interested in visiting the ancient Roman ruins or exploring some of its most modern cities. From the beautiful coastlines to the majestic mountains and rolling hills, Italy truly has something for everyone.
Do and Don'ts in Italy
While Italy is an incredibly fun and beautiful country, there are certain customs and norms to follow to make sure you can enjoy your trip without causing any offense.
Do:
Respect the dress codes in churches, cathedrals, and other places of worship. Italian, especially the older generation, can be strict about following the dress code.
Say "Buon giorno" when entering a shop or restaurant. This is a polite way to greet the staff and show respect.
Make sure to try some of the local cuisines! Italian food is world-famous for its delicious flavors and fresh ingredients.
Try to learn a few basic phrases in Italian, or at least carry a translation dictionary with you.
Don't:
Have pizza with ketchup. It's plain rude!
Ask for spaghetti with meatballs. There's no such thing in Italy. Never. Ever!
Ask for ketchup or hot sauce with your food. The Italians love their food the way they prepare it, so don't expect to find any condiments other than olive oil and balsamico in the pizzerias.
Overbook your trip. Instead, leave some room in between activities so that you can take a break or explore someplace spontaneously without feeling too rushed throughout your time in Italy.
What to Expect When Traveling to Italy
Traveling to Italy for the first time can seem overwhelming, but it doesn't have to be. With a little bit of preparation, you can make sure your trip is an unforgettable one.
First of all, expect to be welcomed warmly by most Italians—many are friendly and hospitable people who will go out of their way to help you if needed.
If you have to deal with official matters such as visas or permits, expect to encounter some bureaucracy and paperwork.
Finally, be prepared for some of Italy's unique customs. For example, keep in mind that most shops, restaurants, and attractions will close for at least 2-3 hours for a siesta in the afternoon. In countries like Italy, Spain, Portugal, etc. siesta is the time for rest or a much-needed break in the middle of the day. It is a long-standing tradition, so it's best to plan accordingly.
For solo female travelers, although it's considered to be safe to travel alone in Italy, it's still best to exercise caution when going out late at night and avoid dark alleyways. It's also a good idea to dress modestly to avoid unwanted attention.
Train Travel Tips for Italy
Like many other countries in Europe, Italy has an extensive railway system. Trenitalia and Italo Treno are the two main railway companies in Italy, and they offer discounts for youth travelers and seniors.
Trains are a great way to get around the country as they are relatively inexpensive and often faster than other forms of transportation. And if you plan to travel around Europe by train, you can buy a Eurail pass for discounted fares.
When riding the train, make sure to carry your tickets with you at all times and validate them when entering the station or boarding the train. Also, keep an eye on your belongings, as pickpockets are known to target tourists on public transportation.
One last thing I need to know about traveling by train in Italy is that strike days can occur, and it occurs more often than you can ever think. So it's best to check the schedule, plan your trips accordingly, and always have your Plan B ready.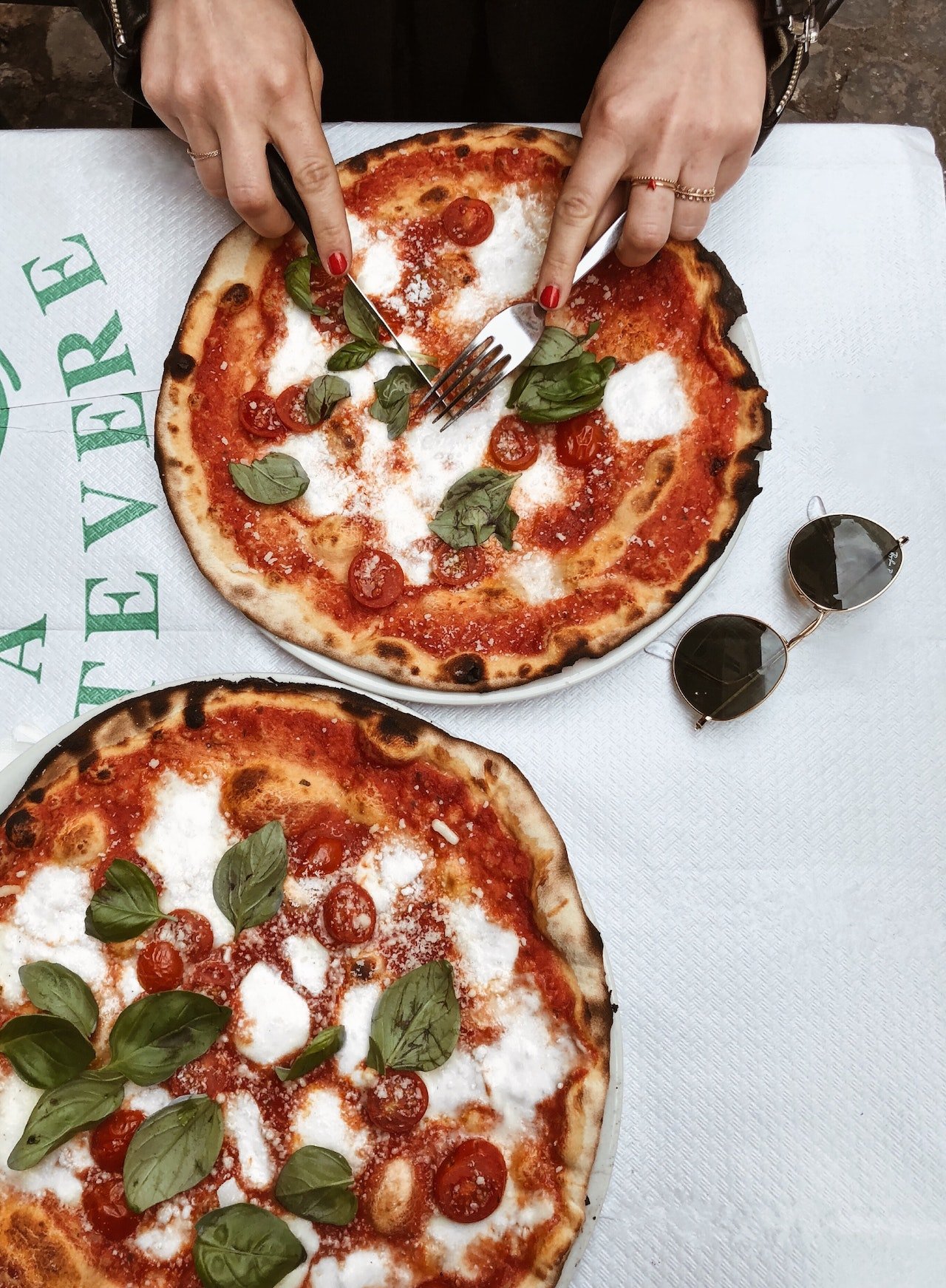 Restaurant Tips for Italy
The Italian love their food and take great pride in the quality of their ingredients as well as the way they prepare them. When it comes to dinner, expect a leisurely meal that can last anywhere from two to three hours or more!
If you're visiting big cities like Rome, be sure to check out the local trattoria—these are family-run Italian restaurants that serve traditional dishes at a reasonable price. If you're visiting small towns in Italy, make sure to ask the locals which restaurant is their favorite spot. This will usually guarantee an authentic experience (and delicious food!)
On the other hand, avoid places with a "tourists menu" by all means. These places usually have limited menu selections and are usually overpriced. Plus, the food is not authentic but just a mass-produced version of Italian dishes, which can make your trip lack the true Italian experience.
At the restaurant, expect to be greeted warmly by the staff, and make sure to say "buon appetito" before starting your meal. This is a polite way to show appreciation for the food you are about to enjoy!
A typical meal in Italy consists of a primo (pasta, risotto), a secondo (meat or fish), and contorno (vegetable side dish). If you're eating out during lunchtime, most restaurants will offer pre-fixed menus, which usually include an appetizer and dessert.
Bread and water are served with every meal, so don't be surprised to see them on your plate. If you want to drink wine with your meal, it's best to ask the waiter for their recommendation.
When it comes time for the bill, expect to pay separately for each course. This is typical in Italy and a way of making sure that everyone pays their fair share!
Finally, remember that tipping is not obligatory, but it's polite to leave a few euros for the server as a sign of appreciation. Keep in mind that Italy is a cash-based country, so you'll need to have some coins handy when it's time to pay the bill.
Avoid These Common Scams in Italy
It's next to impossible to find a destination without scams, and Italy is no exception. There are many stories of visitors falling victim to scams in Italy, but with a little bit of knowledge and some common sense, you can avoid them.
One of the most common scams is the "gold ring scam." This is when someone approaches you with a gold ring and offers to sell it for an incredibly low price. After agreeing on the purchase, the person will ask for money upfront and then disappear quickly before you can get your hands on the ring.
Another common scam is the "lost wallet or purse scam." This is when someone finds a lost wallet or purse in front of you and offers to split the money inside if you give them some cash upfront. Of course, once they get the money, they will disappear with your cash as well.
Besides scams, pickpocketing is also a common problem here. This happens in crowded areas like tourist attractions, train stations, and public transportation. To avoid this, keep your purse or bag close to your body and don't leave any valuable items in sight.
The Editor's Note
When I first traveled to Italy in 2011 for my three-month Italian summer course in Perugia, I was immediately charmed by the country's culture, its food, and the people. Even though I encountered some culture shock along the way (note to myself: do NOT order a cappuccino after 11 am), I was able to find my way around and enjoy the Italian lifestyle.
From learning how to order dinner at a restaurant to experiencing Italy's vibrant nightlife, I quickly learned that there were more than just tourist traps in Italy—it has something for every type of traveler.
Overall, Italy is an amazing country that offers unique experiences, delicious food, and breathtaking scenery. And if you're a first-time visitor to this country, make sure also to check out the advice mentioned in this article for a more authentic experience!
Buon Viaggio!