Rome Travel Tips and Essentials
"When in Rome, do as the Romans do" is a saying that holds true—especially when traveling to the Eternal City. Rome, Italy, is one of the world's most popular destinations, and it can be overwhelming to know where to start in terms of sightseeing, exploring, and navigating your way around this beautiful city.
To help you make the most of your trip, here are some Rome travel tips you can follow for a successful journey.
Rome Travel Tips and Essentials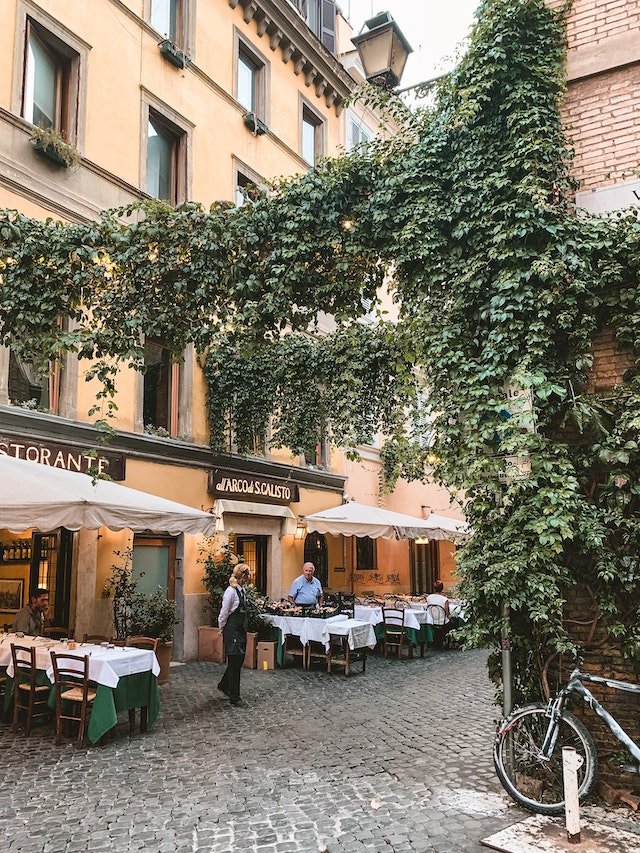 What You Need to Know Before Going to Rome
First thing first, make sure you have all of your documents in order. You will need a valid passport, any necessary visas, and any other documents needed to enter the country.
Passport, visa & other requirements
For citizens or permanent residents of the United States and most other countries, you will need a valid passport to enter Italy. For stays up to 90 days, no visa is required for those visiting Rome from the U.S., Canada, Australia, and many other countries. However, it is best to check your country's specific requirements before booking any trip.
As a rule of thumb, make sure to check if your passport is at least six months valid before departure and that it has enough blank pages for any visa stamps or other documents.
Additionally, make sure to research the current health and safety guidelines for visiting Rome, such as whether or not face masks are required in public spaces.
Weather in Rome
Rome has a Mediterranean climate with hot and dry summers, mild winters, and plenty of sunshine year-round.
In the summer months (June through August), temperatures can soar over 30ºC (80ºF). The winter months are milder, with average temperatures between 7ºC (45ºF) and 16ºC (61ºF). Rain usually falls from October to January.
Make sure you pack the right clothing for your time of visit, such as a rain jacket or an umbrella in case of showers. It's also a good idea to wear layers so that you can easily take off or add layers as the temperature changes.
Getting Around Rome
Rome has an extensive public transportation network that includes both metro and bus routes, so make sure you familiarize yourself with them before embarking on your trip. Take time to study the route maps, understand where the stops are, and plan out your journey accordingly. However, be aware of pickpocketing, especially in crowded areas like the subway and buses.
The Metro is efficient, cheap, and easy to use, but make sure you know which line you need and which stop to get off at before jumping on. Buses are also available, but they can be more confusing than the Metro and may take longer to get to your destination because of traffic. Taxis can be expensive, but if you split the ride with friends or use a rideshare app, you can save some money.
It's also worth noting that many of Rome's attractions are within walking distance, and you can explore the city on foot while taking in its beauty. Just remember to wear comfortable shoes since the many paved walkways and cobblestone streets can be quite hard for your feet and get slippery when wet.
If you want to rent a car in Rome, keep in mind that traffic can be chaotic and parking is often difficult to find, especially if you're not familiar with the area and if you're traveling during high season or driving during rush hours.
Where to Stay in Rome
Rome is divided into numerous districts and neighborhoods, so it's important to choose the one that best suits your budget and needs. The city has a variety of hotels, from luxury 5-star properties to cheap hostels.
If you want to stay near the main attractions, we suggest looking for accommodation in the Central Rome area, such as around Piazza Navona, Campo de Fiori, or the Pantheon. If you're looking for something more budget-friendly and don't mind being a bit farther away from the city center, we suggest staying in one of the outer neighborhoods like Trastevere or Testaccio.
All these places have their own pros and cons, depending on what you're looking for in your stay. For example, accommodations in the central area are quite pricey during travel season, but you're sure to be close to all the main attractions. On the other hand, staying in one of the outer neighborhoods can be much more affordable and provide access to hidden gems that aren't usually seen by visitors.
Wherever you decide to stay, make sure you book your accommodation well in advance, so you have enough time to research the options.
Safety in Rome
While in Rome, make sure to keep your belongings secure at all times and be aware of your surroundings when walking around the city. While there's no need to be paranoid, it's still important to keep your valuables safe.
It's also a good idea to stay away from areas that may not be as safe, such as the outskirts of town or certain parks at night. If you do find yourself in an unsafe situation, don't hesitate to call the police for help.
Overall, Rome is a safe city, and you can enjoy your time exploring the attractions without worrying too much about safety.
What Is Rome Famous for?
Rome was once the seat of the world's most powerful empire, and it is known for its ancient ruins. The Colosseum, the Pantheon, and St. Peter's Basilica are some of its best-known landmarks.
Aside from these iconic sights, Rome is also home to an array of museums, galleries, and churches, as well as some of the world's most renowned restaurants and bars. The city is also known for its chaotic traffic, beautiful architecture, and vibrant nightlife.
If you're into medieval art and history, you'll find lots to explore in Rome. You can visit the ruins of the Roman Forum or take a stroll down the Appian Way. With its rich culture, historic sites, and world-famous attractions, Rome is an ideal destination for travelers of all ages and interests.
No matter what type of traveler you are, there's something to love about Rome. From its iconic monuments and ancient ruins to its delicious food and vibrant nightlife, there's something for everyone in this city. Whether you're visiting for a few days or a few weeks, you'll find plenty of activities to keep you busy while exploring this amazing city.
The Best Travel Tips for Rome
To make the most of your time in the Eternal City, follow these tried and true Rome insider tips from our Rome expats:
Research before You Go
Rome is an incredible destination that deserves to be researched before your visit. Be sure to look up important monuments, attractions, and restaurants before you go so you can plan out your itinerary accordingly.
Additionally, familiarize yourself with Rome's public transportation system — this will save time and money while you're there. If possible, try learning some basic Italian phrases too! This will definitely come in handy when ordering food or asking for little help along the way.
Be Flexible with your Itinerary
Rome can get busy during peak season — so make sure to be flexible with your itinerary! If a popular attraction is too crowded, try visiting some of the lesser-known places instead. Rome is full of hidden gems, so don't be afraid to explore and find something new.
Dress Appropriately
There are three main reasons why you should consider dressing appropriately when visiting Rome. Firstly, you'll want to cover up when entering churches and other religious sites — this means covering your shoulders and legs. Secondly, dressing conservatively will help you blend in with the locals and make sure that you don't stand out as a tourist. And finally, considering the weather in Rome can get hot during the daytime but slightly cooler in the evenings or after rain, it's important to dress in layers.
Explore Like A Local
One of the best ways to experience any city is by exploring like a local. That means getting off the beaten path and immersing yourself in the culture of the city. Instead of just visiting popular tourist attractions (like The Colosseum), take some time to visit lesser-known areas that still offer tons of charm and beauty (like Trastevere).
Dine in Style
One of the best things about Rome is its delicious food! There are plenty of restaurants serving traditional Italian dishes like pasta carbonara and pizza Margherita. But don't forget about gelato either; it's a must-try while in Rome! Indulge in some delicious gelato from any one of the many gelaterias around town.
Additionally, eating at small family-run restaurants or attending local events are great ways to really get a sense of what living in Rome is like instead of just visiting for the day. There's no better way to experience the culture of a city than by dining like a local!
Explore Ancient History and Culture
Rome is one of the most historically significant places on earth. The Italian capital has no shortage of incredible sights and monuments that tell stories of its rich history and culture. Be sure to book a guided tour when you visit iconic attractions like the Colosseum, Trevi Fountain, Pantheon, Roman Forum, and Piazza Navona—the guide will be able to tell you about the history and significance behind each of these locations.
You can even take a day trip outside of Rome to explore places like Pompeii or Ostia Antica. These places are just as iconic and offer a truly unique look into Italy's past.
Pack Adapters And Converters for Charging Devices
Electric outlets in Rome are divided into Type C, F, and L. Be sure to pack adapters and converters if you need to charge any of your devices while in Rome — this will save you time and money!
The Best Travel Hacks When Visiting Rome
More into travel hacks? We've got you covered! Check out our list of the best travel hacks when visiting Rome. From getting discounted tickets to finding hidden gems off-the-beaten path, these tips will make your trip even more enjoyable and rewarding.
Free Museum Entrances on Certain Days
Many museums in Rome offer free entry on certain days of the week. The Colosseum, for example, offers a reduced price for EU citizens aged between 18 and 25 years; or the Vatican Museums are free every last Sunday of the month from 9 am to 2 pm, except Easter Sunday, the 29th of June (St. Peter and Paul day), 25th of December (Christmas Day) and 1st of January (New Year's day).
Pro tip: Make a list of all attractions you would like to visit, then you can visit their official websites and navigate to the tickets/entrance page to check if they are offering any discounts on certain days.
Get a Roma Pass
Just like any other big city in Europe, Rome has its own tourist pass. The Roma Pass gives you access to discounted prices at attractions, free public transport, and the ability to skip lines at certain areas of interest. Make sure to get one before your trip! You can either buy the pass online or in person at any of the official tourist offices.
Free Walking Tours
Although free walking tours are NOT free—you're actually expected to leave a tip at the end—they are still a great way to explore and learn about a city in an engaging and interactive way.
Rome offers several free walking tours that usually focus on either the main attractions or hidden gems of the city. These tours last anywhere from 1-2 hours, depending on the tour company, and are led by a knowledgeable local guide.
Book Everything in Advance
Rome is one of the most popular tourist destinations in Europe, so it's best to book everything—from hotels and train tickets to tours and attractions—in advance. This will help you avoid disappointment or long lines, as well as save money in the process.
Plan Ahead for Pickpockets
Pickpocketing is common in crowded areas in Rome, so it's important to plan ahead and be aware of your surroundings.
Avoid carrying a large purse or bag, and always keep your wallet and phone in secure pockets and close to you at all times. It's also a good idea to review the common pickpocketing tactics and scams used in Rome so that you can spot them before they happen.
Tips for Avoiding Tourists When Visiting Rome
As said, Rome is always crowded with tourists. To avoid the crowds, try getting up early and visiting attractions before 9 am when most other tourists are still asleep. Also, avoid touristy areas like the Spanish Steps and Piazza Navona; instead, explore some of Rome's charming backstreets to really get a sense of what living in Rome is like.
Of course, the whole idea of traveling, in general, is to visit all the famous attractions and monuments, but if you're looking for something different, why not check out some of Rome's lesser-known streets and piazzas? A great way to explore these places is by bike or scooter, or even join an organized tour to get more insight into the history and culture of the city.
Although you cannot avoid tourists entirely, following these tips will help you experience a more authentic side of Rome.
FAQs Rome Travel Tips and Essentials
Since we operated this Rome travel guide blog in 2019, we've got a lot of frequently asked questions about traveling to Rome. Here are the most popular ones that can give you an overall picture of what it's like to travel in Rome.
Q: What is the best time to visit Rome?
A: The best time to visit Rome is between April and June or between September and October when temperatures are mild, and there are fewer crowds. However, if you're looking for a more budget-friendly trip, then winter is a great time to visit Rome as prices are lower and attractions are less crowded.
Q: How many days in Rome is enough?
A: It depends mainly on your interests, how much time you have, and what your budget is. Generally, a minimum of three days is recommended to get a good feel for the city and its main attractions. However, if you're looking for a more leisurely stay, then four or five days would be ideal.
Q: Is 7 days in Rome too much?
A: The amount of time you spend in Rome depends on what you want to do and see. If you're looking to explore all the city has to offer, then seven days might be too short. However, if you're just looking for a relaxing getaway and don't plan on venturing outside the city limits, then seven days should be enough.
Q: Are there any safety concerns when visiting Rome?
A: As with any other city, it's important to be aware of your surroundings and take basic safety precautions. Pickpocketing is a common occurrence in tourist areas, so always keep valuables close to you and avoid carrying large purses or bags. Additionally, it's best to stay in well-lit areas and avoid walking alone at night.
Q: Is Rome a safe city for solo travelers and female travelers?
A: Generally speaking, Rome is a very safe city for both solo travelers and female travelers. However, it's always important to be aware of your surroundings and take basic safety precautions. Avoid carrying large amounts of cash, and always keep your wallet and phone close to you. Additionally, it's best to stay in well-lit areas at night and not walk alone if possible.
Q: Should I rent a car when visiting Rome?
A: Well, it really depends on how comfortable you are with driving in a busy city. If you're not comfortable with navigating the narrow streets and traffic, then it's best to stick with public transportation like buses or trains. However, if you do decide to rent a car, be sure to familiarize yourself with local driving laws and regulations before hitting the roads.
Q: What is considered to be rude in Rome?
A: Oh, we actually covered that question when it comes to tips for traveling to Italy for the first time, so go check it out! You'll sure get more information.
Q: How much money should I bring to Rome?
A: This really varies depending on your spending habits, but a good rule of thumb is to budget about €100 per day. This will cover the cost of meals, transportation, and entrance fees to attractions. Of course, if you plan on doing a lot of shopping or taking day trips, then you should budget accordingly.
The Editor's Note
Rome is a very special city in its own way. Unlike Paris, London, or even New York, Rome doesn't have one particular face. Rather, it's like a patchwork quilt of various eras, from the ancient ruins to the Renaissance cathedrals and modern architecture. With its incredible history and culture, Rome is a must-see for anyone looking to explore Europe.
I hope these Rome travel tips have given you all the info you need for successfully planning a trip to Rome! Have a great and safe journey!