Escape to Tuscany: Your Perfect 3-Day Itinerary
If you're looking for a dreamy escape, the Italian region of Tuscany is the perfect place. From rolling hills and lush valleys to art-filled cities and delicious cuisine, this beautiful part of Italy has something for everyone.
If you happen to have three days to explore this lovely region, here's a great itinerary to make the most of your time in Tuscany. Whether you're planning an ultimate Tuscany road trip, a family getaway, or a romantic escape, this blog post will have you covered.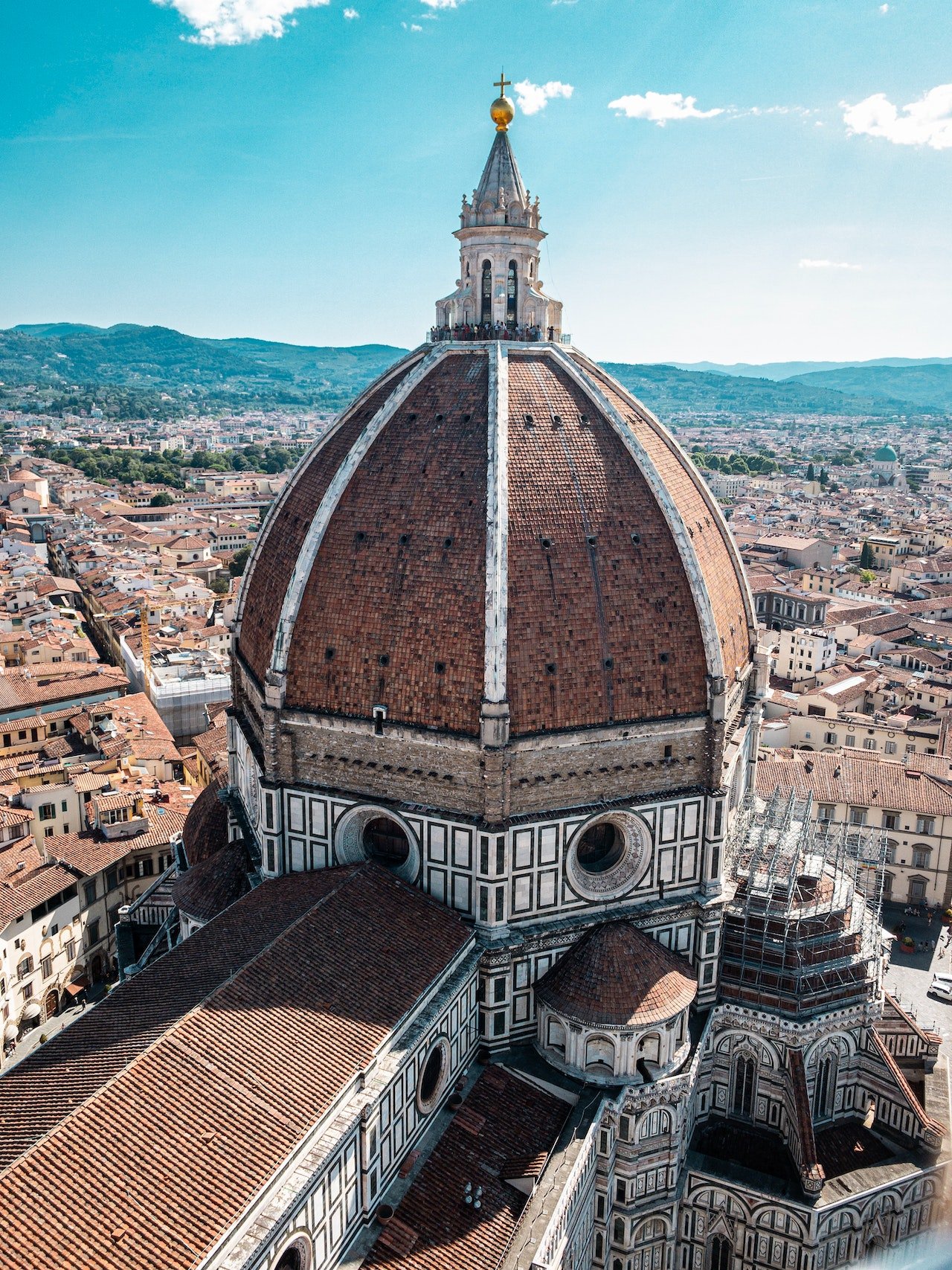 What Makes Tuscany so Beautiful
If you're looking for a stunning landscape and beautiful architecture, then this is the region for you. The lush green hills are dotted with vineyards, olive groves, and picturesque medieval villages—the Tuscany countryside is nothing but breathtaking.
The cities of Tuscany are also an important part of the region's charm. Florence, for example, is known for its fine art and Renaissance architecture, while Pisa houses the iconic Leaning Tower. Siena is a beautiful city surrounded by walls and towers, with picturesque cobbled streets and stunning churches. And if you're a wine lover, you cannot miss the Castello di Brolio winery located in Chianti, which offers delicious wines, olive oil tastings, and impressive views.
Tuscany has something for everyone and everything you can dream of.
So, if you're still unsure where to start your adventure, read on for all the travel information and tips, and discover the perfect 3-day itinerary that will ensure you make the most of your time in this stunning region.
How to Get There
If you're traveling from Rome, you can take the train to Florence, which takes around 1.5 hours and costs about 30 Euros. From there, you can rent a car or use public transport for the rest of your journey.
If you're traveling from Venice, the journey will take around 3.5 hours and cost about 50 euros.
For longer distance within Italy, you can check out the Flixbus network and other low-cost airlines such as EasyJet or Ryanair. If you opt for low-cost airlines, make sure to check the additional baggage fees in advance.
Of course, the best way to see Tuscany countryside and enjoy the most of its beauty is a road trip with a private car. This way you can easily stop along the way and explore as much as possible without relying on public transportation schedules. Remember to learn some driving "rules" in Italy before you hit the road.
Best Time to Visit Tuscany
Located in the Mediterranean climate region, Tuscany has hot summers and mild winters. The ideal period to visit is from May to September when the sun is out, the temperatures are pleasant and you can enjoy outdoor activities such as hiking or biking.
Keep in mind that July and August can be quite crowded with tourists, so if you prefer a more relaxed atmosphere and a better chance to explore the region, you should plan your trip for the shoulder months of May and September.
During these shoulder months, the climate is still mild and you'll be able to witness the stunning Tuscan landscape in its full glory without being overwhelmed by the high number of tourists.
What is the Most Beautiful Part of Tuscany?
This question is tricky! It really depends on what type of activities you're looking for and what areas of the region you want to explore.
If you're a big fan of wine, then Chianti is the place to go. Here, you can visit some of the best wineries in Italy and discover the secrets behind its delicious wines. A wine tasting trip is a must during your stay in Tuscany.
If you're looking for a cultural experience and some of the most iconic sights of the region, then Florence is definitely worth a visit. The city's art galleries, churches and monuments will leave you speechless. Make sure to stop by Piazzale Michelangelo to get an amazing view of the entire city.
For some of the most beautiful hiking trails, head to the Apennines where you'll be able to explore lush forests and incredible mountain views.
Finally, if a beach holiday is what you're looking for, then the coast will offer all you need: sandy beaches, crystal clear waters and stunning views of the archipelago.
Lucca, Siena, and San Gimignano are also amazing cities to explore and offer a great variety of things to do. They are also still relatively off the beaten track, so you'll get to experience Tuscany in a more traditional and authentic way.
Regardless of where you choose to go, one thing is certain: Tuscany will leave you with unforgettable memories and a longing to come back again soon!
Three Days in Tuscany in a Nutshell
Now, with all of this in mind, let's have a look at the perfect 3-day itinerary to help you make the most of your time in Tuscany. Whether you're planning for a long weekend in Tuscany or a longer stay later, this itinerary should give you some insights on what to do and where to go.
Day 1: Florence
Your first day should be spent exploring the capital city of Florence.
Start by visiting Palazzo Vecchio, a 14th Century palace that was once home to the powerful Medici family. Afterward, go window shopping along Via de Tornabuoni before stopping for lunch at La Prosciutteria—one of Florence's best restaurants that specialize in cured meats and cheeses.
In the afternoon, explore Florence's religious sites like Santa Croce Church and Duomo di Firenze (the Dome Cathedral).
Before sunset, make sure to head up to Piazzale Michelangelo for a breathtaking view of the city. End your day with a stroll across Ponte Vecchio bridge and watch as the sunset turns the sky pink over the Arno River.
After dinner, you may even go for a stroll and take some night shots of the city before heading back to your hotel.
Main attractions: Ponte Vecchio, Uffizi Gallery, Palazzo Vecchio
Food to try: Bistecca Fiorentina and gelato
Day 2: San Gimignano and Siena
On your second day in Tuscany, head to the medieval city of San Gimignano. Here you'll find cobblestone streets, towers rising up from the landscape and a magnificent view over the surrounding countryside.
If you fancy a wine tasting experience, you can opt for a tour of the local wineries—San Gimignano is famous for its Vernaccia di San Gimignano, the first white wine to be awarded with a DOC (Denominazione di Origine Controllata) status in 1966.
In the afternoon, continue to Siena and explore its beautiful alleys and squares. This medieval city will transport you back in time with its cobblestone streets and ancient architecture.
Start by visiting Piazza del Campo—Siena's main square, where locals gather throughout the year for festivals and events like its annual Palio horse race held every summer.
Be sure to check out Siena's stunning Gothic cathedral before heading off on a wine tour through some of the region's oldest vineyards.
End your day with dinner at Osteria Le Logge–one of Siena's finest restaurants serving up classic local dishes like ribollita soup and handmade pasta with truffles.
Main attractions: San Gimignano towers, Piazza del Campo
Food to try: Crostini neri (toasted bread with liver, a must-try food in Tuscany).
Day 3 (Plan A): Pisa & Lucca
On your last day, head to the cities of Pisa and Lucca.
First up, visit the iconic Leaning Tower of Pisa located in the city's main square—Piazza dei Miracoli. You can also explore some of the other religious buildings nearby, like Duomo di Pisa and the Baptistery, before heading off to lunch.
In the afternoon, take a short drive to Lucca—one of Tuscany's loveliest cities with its well-preserved medieval walls.
Start by walking along Via Fillungo, the city's main shopping street, then head to Piazza dell'Anfiteatro, where you can take a lunch break and enjoy some people watching. Continue along the city walls for an afternoon stroll before heading off to explore its churches, gardens, and local markets.
End your day with dinner at Ristorante La Buca di Sant'Antonio—an award-winning restaurant serving up the best local dishes and wines.
Main attractions: Piazza dei Miracoli, Leaning Tower of Pisa
Food to try: Farinata (a traditional dish made from chickpea flour).
Day 3 (Plan B): Chianti
Are you a fan of Italian wine? Then why not spend another day—your last day in Tuscany—taking a wine tour through the region's famous Chianti area? Here you can visit some of the oldest vineyards and wineries, learn all about the local wines, and even sample some of the best food.
Start off by visiting Greve—the main town in the Chianti region. After lunch, take a drive through the rolling hills and vineyards until you reach Castellina in Chianti—one of the most picturesque towns in Tuscany.
Spend some time cycling or walking through vineyards before stopping for lunch at Castello di Ama—an estate nestled among olive groves where you can sample their award-winning wines paired with traditional dishes made from locally sourced ingredients like wild mushrooms or prosciutto di cinta senese (cured pork).
Finish off your trip by soaking up some sun on one of Chianti's many scenic hilltops while sipping a glass of red wine as you watch the sunset over endless rows of grape vines below!
Using Travel Tips for Driving in Tuscany
Driving in Italy is an amazing experience, but it can also be a bit daunting, especially if you're not used to driving on winding roads and crowded streets. To make your journey smoother, follow these tips for driving in Tuscany:
Always remember that Italy drives on the right side of the road. In fact, except for the UK, the rest of Europe also drives on the right side.
Make sure to have all necessary documents before setting out on the road.
Follow all speed limits and other traffic laws. Italy is known for the strict enforcement of these rules, so don't take any chances!
Beware of narrow roads and tight turns. Many roads in Tuscany are windy, and it can be difficult to maneuver large vehicles like cars or RVs.
It's also important to be aware of pedestrians and cyclists. In Tuscany, many people get around by bike or scooter, so always keep an eye out for them when driving.
Parking can be a challenge in cities like Florence, Siena, and Pisa. Look for designated parking lots or garages to avoid fines.
It's always a good idea to download a navigation app like Google Maps for traffic updates and directions.
Finally, familiarize yourself with Italian traffic laws and driving etiquette—for example, honking is discouraged unless absolutely necessary. Italians have their own etiquette that can be confusing for foreigners, so make sure to read up or ask for advice from locals before setting out on the road.
Three Days in Tuscany for Families
If you're a family traveling to Tuscany, there are plenty of activities and attractions that everyone can enjoy. First and foremost, you would want to skip all the crowded tourist spots and head straight to the countryside. Here you can drive through picturesque villages and take in all of the beautiful views.
You would also want to skip all the wine-related activities and focus on family-friendly activities like visiting castles, exploring historic towns, or taking a cooking class.
If you travel with small kids and need a stroller, consider the cobblestone streets, which can be difficult and unpleasant to maneuver.
Moreover, if you're from countries with a colder climate and travel to Italy during summer time, don't forget to bring sun protection like hats, sunglasses and sunscreen, and drink plenty of water along the way.
Day 1: Explore Pisa
Start off your three-day trip with a visit to Pisa—the city of miracles. The Leaning Tower of Pisa is the iconic symbol of this city and a must-see for any family.
Spend some time walking around the historic center, admiring the architecture, or taking a boat ride along the Arno river.
Day 2: Go Cycling in Lucca
Lucca is a charming town situated on the banks of the Serchio river and surrounded by hills and mountains.
Take a break from the hustle and bustle of the city and go cycling in Lucca's countryside.
Rent bikes for the day and explore the surrounding area, stopping at quaint villages, wineries, or churches along the way.
Day 3: Visit Siena
On your last day, take a trip to the beautiful city of Siena. Explore the historical center and admire some of its most famous attractions like Piazza del Campo or Torre del Mangia.
Although Siena is famous for the Palio horse race in July, it's still under the radar for tourists compared to cities like Florence.
Three Days in Tuscany for Couples
Needless to say, Tuscany is the ideal destination for couples looking for a romantic getaway. Whether you're planning to explore the countryside, indulge in local delicacies, or just enjoy some peaceful relaxation time together, there's something here for everyone.
Day 1: Visit Florence
Start off your three-day trip with a visit to Florence, the capital of Tuscany. The historic city center is packed with attractions like the Duomo, Ponte Vecchio, and Uffizi Gallery.
Explore the cobblestone streets and take a romantic stroll along the Arno river.
Day 2: Visit Chianti Region
The next day, head to the beautiful Chianti region and explore its rolling hills and vineyards.
Visit a local winery or olive mill and learn about the traditional Tuscan products, or just enjoy some peaceful time together at one of the family-run restaurants in the area.
You two can take a cooking class or a wine-tasting tour or go on a hike in the Tuscan hills for some of the most breathtaking views.
Day 3: Explore Val d'Orcia
On your last day, explore the Val d'Orcia valley, a UNESCO World Heritage site famous for its picturesque landscapes. A nice hideaway for couples, the Val d'Orcia offers plenty of opportunities for outdoor activities like biking or horse riding.
Moreover, there are many small villages and hamlets in the area you can explore during your stay.
No romantic trip to Tuscany would be complete without a romantic dinner in a charming restaurant, so make sure to check out some of the local specialties and have your table booked in advance.
Three Days in Tuscany for Art and History
Art and history lovers, we hear you! Tuscany is the perfect destination for you, with its many art and history museums and monuments. So, we've put together an itinerary to get you started and immerse yourself in the rich culture of this region.
Day 1 & 2: Explore Florence
Start off your three-day trip with two days in Florence, the birthplace of the Renaissance. The historic city center is packed with attractions like the Duomo, Ponte Vecchio, and Uffizi Gallery. Explore these sites and marvel at the works of the masters like Michelangelo and Donatello. Their masterpieces are truly a must-see for any art and history enthusiast.
In fact, you'll need more than just two days to truly explore Florence. But you know you will come back, right? Trust us, nobody ever gets tired of this city.
Day 3: Visit Assisi
A lesser-known sister city of Florence, Assisi is a small hilltop town in Umbria, not far away from Tuscany. Assisi is home to the Basilica di San Francesco, a UNESCO World Heritage site and one of the most important places in Italy for art and religious history.
Take your time to explore its many frescos, chapels, and paintings as you wander around town.
What to Know Before Visiting Florence
Florence is one of the most popular cities to visit in Italy. Its rich history and culture, beautiful Renaissance art and architecture, delicious food, and stunning views make it an unforgettable destination for travelers.
The best time to visit Florence is usually between March and October, when the weather is mild and sunny. During this time, there are a variety of festivals and events to enjoy.
Be aware that Florence can be crowded—especially around popular attractions like the Duomo di Santa Maria del Fiore and the Ponte Vecchio bridge. It's best to plan your itinerary in advance and book tickets for attractions ahead of time to avoid long lines. Also, be aware of pickpockets—especially in busy tourist areas.
Florence has a rich cultural heritage, so make sure to explore the city's museums and galleries. Many of these are free on certain days or with specific passes (such as the Firenze Card).
When it comes to accommodations, you can choose from a variety of hotels and hostels in the city. Most are within walking distance of major attractions, but there are also plenty of day trips available if you want to explore outside the city center.
Florence is well-known for its genuine leather goods, so make sure to bring home a souvenir or two. From iconic Italian brands like Gucci and Prada to smaller artisan shops, you'll find something for everyone!
When it comes to food, bistecca di Fiorentina is a must-try—it's a large, delicious T-bone steak that is typically served with rosemary potatoes. Other favorites include lampredotto (cow's stomach sandwich) and of course, gelato. Florence and its many gelaterias serving up delicious dessert treats are not to be missed.
Finally, don't forget to take in the breathtaking views of Florence from the Piazzale Michelangelo or head to the Tuscan countryside to watch the sunset over endless rows of grape vines below! It's a sight you won't soon forget!
The Editor's Note
When I got pitched this article about Tuscany, I was immediately intrigued. It's a region that has such a rich history and culture, and it's packed with art and architecture to marvel at.
But more than that, I've spent my early twenty-something years exploring Tuscany and its lesser-known sister Umbria, and I can honestly say that the experiences I've had there are some of my most treasured memories. If you're planning a trip to the Italian countryside, make sure to include Assisi in your itinerary—you won't regret it!