An Epic Day Trip from Rome to Venice
If you're looking for a quick escape from the hustle and bustle of Rome, a day trip to the romantic city of Venice is just what you need. The two cities could not be more different, and exploring them both in one day can be an incredible experience.
Traveling from Rome to Venice takes around 4 hours by train, but once you arrive in the beautiful city, it will all be worth it. From historical sites and galleries to gondola rides in canals filled with art and beauty, there is no shortage of things to do in Venice. Take a stroll through St. Mark's Square and visit the iconic Doge Palace or take in epic views from Rialto Bridge.
Fancy a guide? Keep reading for our guide on how to make the most of your day trip and see everything that these two Italian gems have to offer!
How to Do A Day Trip from Rome to Venice
How To Get from Rome to Venice
The fastest way to travel between Rome and Venice is by taking the train. The high-speed AV Frecciarossa train makes the journey in just over three hours, which leaves plenty of time for sightseeing. You can book tickets online or at any train station in Italy.
Distance from Rome to Venice
The distance from Rome to Venice is approximately 526 kilometers (326.5 miles). If you travel by train, the journey takes around 4 hours. If you opt for driving, expect to be on the road for around 5 – 6 hours, depending on the current traffic situation.
Trains from Rome to Venice
The trains from Rome to Venice are operated by Trenitalia and depart from Rome's Termini Station. The AV Frecciarossa is the fastest option, taking just over three hours for the journey. You can also opt for slower regional services, which take around 4 – 5 hours. Then, the best option is to start early so that you can have more time to discover Venice and its gems.
From Roma Termini station, you can catch direct trains that will take you straight to Venezia Santa Lucia station in around 4 hours with a one-way ticket starting from around €37, and tickets can be purchased online or at ticket machines at any Italian train station. If you plan on traveling around Italy during your stay, it's also worth looking into getting a multi-day pass, as these can often provide discounts on individual fares.
Road trip from Rome to Venice
Although it will take longer, a road trip from Rome to Venice is one of the best ways to explore Italy. You can rent a car and drive along the coastal route or take the slightly faster highway route toward your destination. Along the way, you'll have plenty of time to stop for sightseeing and enjoy some delicious Italian cuisine.
However, a road trip will best fit if you plan to stay for at least 48 hours; then you'll have to rest and get enough sleep before driving back.
Other Transportation
Besides train and car, you can eventually opt for bus or even flight. But these two options will take more time and cost more. Therefore, it's best to stick with the train or car for a day trip.
What to Do in Venice for a Day Trip
Venice is a beautiful city with a rich history and culture. If you only have a day to spend in Venice, here are 15 must-see places you should consider visiting: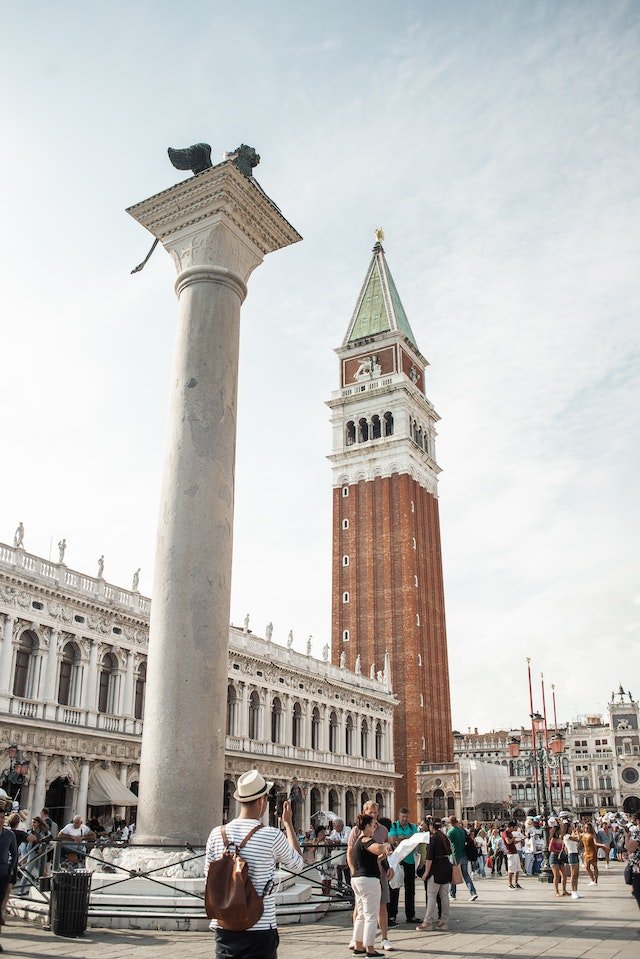 1. St. Mark's Square
This is the main square in Venice and is surrounded by historic buildings, including St. Mark's Basilica and the Doge's Palace. After arriving at Venezia Santa Lucia station, it's just a short walk (or water taxi ride) over to St Mark's Square — the heart of historic Venice — so you basically can't skip this one!
2. St. Mark's Basilica
This stunning Byzantine-style basilica is the most important religious building in Venice and is one of the city's most famous landmarks, known for its stunning Byzantine architecture and glittering mosaics.
3. Doge's Palace
This grand palace was once home to the ruling Doge of Venice and now houses a museum. This palace is a masterpiece of Gothic architecture, and it definitely a great place to learn about Venice's history.
4. Rialto Bridge
The Rialto Bridge is the oldest and most iconic of all the bridges in Venice, spanning across the Grand Canal. It's an excellent spot for taking photos and admiring the views of Venice from a different perspective.
5. Grand Canal
This two-mile long canal runs through Venice and is lined with beautiful Renaissance buildings. Taking a boat ride down the Grand Canal is one of the best ways to see many of Venice's main attractions, such as the Doge's Palace and St Mark's Square.
6. Gondola Ride
This is an absolute must for anyone visiting Venice! Taking a gondola ride is a quintessential Venetian experience and a great way to see the city from above the water.
7. Gallerie Dell'Accademia
If you're an art lover, this is a must-see art museum located in the heart of Venice. Here, you can admire some of Italy's most famous works of art, such as the painting "The Tempest" by Giorgione and the bronze sculpture "David" by Michelangelo.
8. Basilica di Santa Maria della Salute
This stunning church was built in the 17th century to commemorate the end of the plague and is a masterpiece of Baroque architecture. The dome of this beautiful basilica is an iconic part of the Venice skyline.
9. Campo Santa Margherita
This bustling square is a great place to grab a bite to eat or enjoy a drink at one of the outdoor cafes. Although they are quite pricey, Campo Santa Margherita is an excellent spot to people watch and take in the local atmosphere.
10. Jewish Ghetto of Venice
The Jewish Ghetto of Venice was established in 1516, making it the first ghetto ever in Europe. This tiny neighborhood is now home to a small but vibrant Jewish community and has some fascinating museums and synagogues worth visiting.
11. San Giorgio Maggiore
If you have enough time for some island hopping, put San Giorgio Maggiore on your list. This small island is home to a beautiful church and one of the best panoramic views of Venice.
12. Murano
This nearby island is known for its glassmaking tradition, and visitors can watch artisans at work and purchase beautiful glassware. Some of the shops also offer free glassmaking demonstrations.
13. Burano
This colorful island is famous for its brightly colored houses and lace-making tradition. Here, you can wander around the picturesque streets and explore some of the local shops. One of the most well-known souvenir from Burano is beautiful handmade lace products that you can buy at the local stores.
14. Lido di Venezia
This long stretch of beach is located just a short boat ride away from Venice and is great for swimming and sunbathing during the summer months. The nearby Venetian Casino on the Grand Canal also offers a great nightlife scene.
15. Libreria Acqua Alta
Fancy a lovely book store tucked away in a charming canalside location? Look no further than Libreria Acqua Alta, which is known for its eclectic selection of books and incredible views. You won't be able to help but take a picture or two here!
Is Venice Worth Visiting for a Day Trip?
Honestly, one day is never enough time to explore Venice, but if that's all the time you have, then it can still be a great experience. You won't be able to visit every site and attraction, but taking in some of the most iconic sights will give you a good feel for this charming city.
So, if you want to make your stay memorable, make sure to plan your day trip from Rome to Venice in advance and book all tickets for the best attractions. This way, you won't miss out on anything and can really take in all the beauty of Venice before heading back to Rome.
One Day in Venice Itinerary
If you only have one day to spend in Venice, you'll want to make the most of your time. Start by arriving as early as possible, so you'll have plenty of time to wander around the city.
Here's how to do Venice in one day from Rome:
9:00 AM – Start your day in St. Mark's Square.
This will give you a chance to see the square before it gets too crowded. Take in the stunning architecture of St. Mark's Basilica and the Doge's Palace, and maybe grab a quick breakfast at one of the cafes.
10:00 AM – Head inside St. Mark's Basilica.
This church is one of the most famous landmarks in Venice and is known for its stunning Byzantine architecture and glittering mosaics.
11:00 AM – Visit the Doge's Palace.
Be sure to check out the famous Bridge of Sighs and the prison cells that housed many of the city's criminals. You should spend around 1 – 1,5 hours exploring the palace and its grounds.
12:30 PM – Take a walk over the Rialto Bridge.
This oldest bridge in Venice offers stunning views of the Grand Canal and the surrounding architecture. Be sure to stop by the nearby fish and vegetable markets for some picturesque photo ops & grab some lunch while you're there.
1:30 PM – Take a gondola ride along the Grand Canal.
30 minutes should give you enough time to enjoy the unique experience of gliding through Venice's picturesque canals.
2:00 PM – Explore the Jewish Ghetto & learn about its history.
The Jewish Ghetto is one of the oldest in Europe and a must-visit for anyone interested in learning more about Venice's past. Here you can discover the culture and lifestyle of the Jewish people who lived in Venice centuries ago.
3:00 PM – Stop by one of the glassmaking shops and watch artisans at work.
Venice is famous for its glassmaking tradition, and visitors can watch artisans at work and purchase beautiful glassware. Some of the shops also offer glassblowing classes for those interested in trying their hand at this ancient craft.
4:00 PM – Head to Burano.
One of the most well-known souvenirs from Burano is beautiful handmade lace products that you can buy at the local stores. You'll also be able to enjoy the colorful houses and explore the unique canalside architecture of this island.
5:00 PM – Grab a drink at one of Venice's cafes or bars.
Venice has no shortage of great places to grab a drink and relax after a day of sightseeing. Whether you're looking for an Aperol Spritz or a classic Italian espresso, you'll be able to find it here.
6:00 PM – Visit the Basilica di Santa Maria della Salute.
Before heading back to Rome, take a few moments to admire the stunning Baroque architecture of this church. The view from the top of the dome is especially beautiful at sunset and should not be missed.
7:00 PM – End your day with a nice dinner at one of Venice's many restaurants.
There are plenty of options to choose from, so be sure to ask for recommendations based on your preferences. One restaurant that is particularly popular among locals and tourists alike is Osteria Bancogiro.
Located right on the Grand Canal, this restaurant offers stunning views of the water and the Rialto Bridge. The menu features traditional Venetian cuisine, with a focus on fresh seafood and seasonal ingredients. Some of the must-try dishes include the spaghetti alle vongole (spaghetti with clams) and the fritto misto di mare (mixed fried seafood).
9:00 PM – Back to Rome.
Your day trip to Venice is over, and it's time to head back to Rome. Be sure to take some time to reflect on the incredible sights you saw and all the new experiences you had throughout the day.
The Editor's Note
This day trip from Rome to Venice is an ideal way for travelers to experience the best of both cities. From iconic landmarks to local eateries and shops, this itinerary offers an unforgettable experience that will leave you wanting more. Be sure to pack comfortable shoes and clothing, as there will be plenty of walking involved! Enjoy your journey!